Antique Tables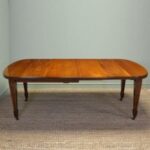 Driscolls Antiques stock some of the finest quality antique tables for sale, from traditional Edwardian and Victorian periods to more rustic country Georgian designs. They are in beautiful timbers such as Mahogany, Oak, Walnut and Pine and we offer cheap UK and worldwide delivery.
Showing 1–12 of 134 results
Antique tables come in many different shapes and sizes from small occasional to larger dining tables, usually built in quality woods such as mahogany, pine, oak or walnut and from periods like the Georgian or Regency eras to the Victorian and Edwardian times. Here at Driscolls Antiques, we have some beautiful examples for sale, all carefully restored to a high standard using traditional methods of restoration.
History
No single item of furniture reflects better, the explosion of affluence which took place during the 18th and 19th centuries than the dining table. Only 200 Years earlier, at the end of the 16th century, the dominant piece of furniture was still the long oak dining table, but by 1800 popular pattern books were being introduced with a multitude of different varieties and designs.
The earliest forms were only used by the very rich. The Great halls in larger properties were the setting for meals in medieval times, the Lord of the house and his family would have ate at trestle, kitchen tables which were basically large planks of wood supported by trestles. These pieces of English furniture could be easily dismantled so that the hall could be used for dancing.
By the Tudor period the Lord and his family would dine in a separate room rather than the great hall and this was the start of the fixed refectory table. It was a long joined piece of furniture that was made from the 1550s to 1700s and then reproduced in the Victorian and Edwardian times. Some early examples have huge single plank tops which are very rare, but most have two or three long planks of wood along the top, made from solid oak or pine, but very rare examples are in elm or a combination of the two together.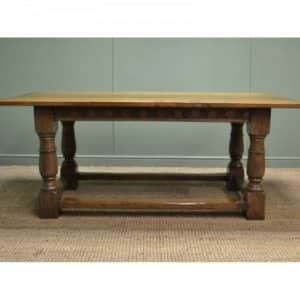 As the number of smaller houses increased in the mid 1600s, folding gate leg designs were used for dining and some were up to ten feet long. By the 18th Century, advances in joinery construction meant that the stretchers joining the legs of the gate leg were no longer needed, and so the drop leaf was born. These large farmhouse tables had six legs but later only four as it allowed two of the corner legs to swing out to an angle of ninety degrees to support the leaves. Some have plain bar supports which might be grooved, with baluster, bobbin, or spiral turning and when they are worn with a rich patina over the years can look beautiful. Carving on friezes and stretchers can be seen on early models with fold over tops, but not on larger gate legs with fall flaps. Most of the 17th century gate legs were made in oak or elm, while the finest were made of walnut, cedar or yew. Other designs include the lowboy and cricket table, smaller charming occasional pieces built for country homes.
By the end of the 17th century, formal dining rooms were in fashion and the large central table was now the focus of the dining room. The design of chairs changed through the years as by the end of Queen Anne period both wooden tables and chairs were usually supported on cabriole legs without stretchers. The supports consisted of legs joined at right angles to sturdy rails and wooden knuckle hinges set into the central under frame. Early examples had outward curves and the cabriole legs had carved acanthus leaves or lion masks finished with carved claw and ball feet.
New activities in the 18th century emerged as middle classes started dining, tea drinking, card playing, doing needlework and this can be seen many new styles.
Tripod tables came around due to the very fashionable tea drinking in the late seventeenth century. A variety of
antique occasional tables
were made for this purpose and the most popular form was the tripod. This type was three legged and stood more steadily on an uneven floors rather than the four legged version. This form was originally seen in the Roman times and was used as a lantern or candle stand. It was not until the 1730s that the tripod table with a single pedestal and three curving, splayed legs was made. This design was mainly for wine glasses or tea cups, some would be used as a stand on which a silver kettle and its burner could be placed. often they had dished tops to prevent cups or glasses being knocked off and most have round or oval tops that can tilt (tip up) into a vertical position when not in use so can be stored away or into a corner of a room. The best quality and most collectable have a top that is made from a single piece of solid wood (a one piece solid top) and a birdcage enabling the top to swivel around.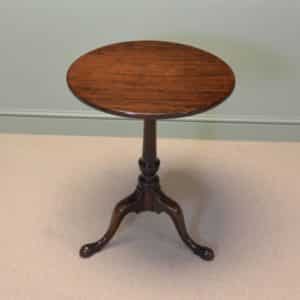 The
card table
was an essential item for any drawing room since a mania for cards and gambling had swept the kingdom during the early part of the seventeenth century. They were mainly used for card games such as loo, backgammon, chess and other entertaining games. They had folding tops lined with baize or felt and when open they were supported by gate leg action. These types were uncomfortable to sit at, as the stretchers and legs got in the players way. Better construction in Queen Anne reign meant that they could be fitted with a single hinged back leg that swung out to support the top and then a concertina mechanism was introduced in the mid 1700s to extend the back legs and frame. When the tops were open they had dished recesses for candlesticks and wells for counters or coins called counter wells. The Regency period brought semi circular
games tables
ornately decorated with marquetry, cross banding and central pillar or pedestal with a folding swivel top. The swivel top had a hinge and swivel mechanism which was developed whereby the top swivelled about an off centre pivot, then opened out to be supported by the table frame.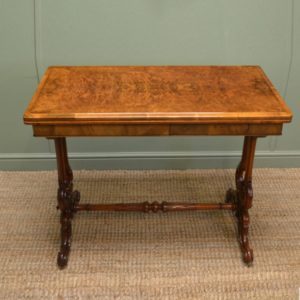 Side tables
were made to stand against the wall of a room as an additional surface at mealtimes or for displaying ornaments but they are ideal to put your telephone or lamp on in your hallway. They have been around since the 15th century and were a development of the chest.
Different types emerged like the
console
, which was introduced in France, fixed to the wall, often with only two front legs. They were given beautifully carved supports, were taller and sometimes backed with mirror glass to give the appearance of four legs. It was in the 17th century that ornamental pier tables came into fashion, mainly in gilt wood and would have been done by a specialist carver. The finest examples would have thick, marble slabs supported by beautifully scrolled foliage, acanthus and mythological figures. Louis XIV had them made with scrolled dolphin supports; they were designed to stand in the pier, the space between two windows. They were sometimes used to hold a candelabrum so the light is reflected into the room by a pier glass, or mirror hung just above.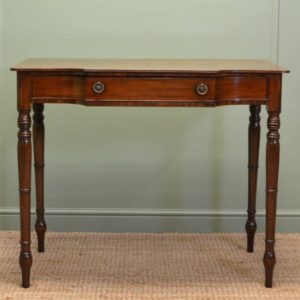 In the Victorian era, a mass of new designs emerged to fulfil the large demands from the new rise of the middle class wealth. The
extending dining table
with a wind out mechanism and winding handle (crank handle) was made; the centre would have from one to five additional removable leaves. The earlier models of this type would have been a drawer leaf pull out action but they were the same concept and style. They stand on turned legs with casters so they can wind in and out easily. Occasionally there is a compartment for storing the additional leaves but this is quite rare to see so when the additional leaves were not in use they would be stored in a dark cupboard and only brought out on special occasions; this is why so often the tops are so different in colour due to fading of the sun light. Some of the earlier Georgian models had a drop leaf centre with two D shaped ends that joined together to make it larger. They were very flexible as the two end sections could be stood against the wall when not in use, but put together when it was needed to increase the size. They are held together with D clips (metal straps slotted into brackets on the underside of the top)
Smaller occasional furniture appeared for the Lady for storing sewing materials called the work box. They date from the late 18th century onwards and can vary considerably in form. The majority have silk bags underneath that pull out on sliding rails and some have hinged lids that open to reveal interiors fitted for sewing materials, pin cushions and small lids. Others have hinged flap tops and pull out sides. The famous cabinet designer and furniture maker Thomas Sheraton designed one with a retractable fire screen.
The Sutherland table was named after the Duchess of Sutherland, and was similar to the Pembroke but smaller. The Sutherland has a narrow central section supported on a trestle base with quite deep leaves on either side, used for serving breakfast or coffee. They were often situated next to a nest of tables, three or four that come in different sizes and then slot together to a compact size of one small piece.