Antique Cupboards & Cabinets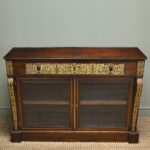 Here at Discolls antiques Ltd we have some of the finest Antique cabinets and cupboards for sale, beautifully restored with UK and worldwide delivery available. We stock Georgian, Regency, Victorian and Edwardian periods in fine woods such as Mahogany, Rosewood, Oak and Walnut.
Showing 1–12 of 35 results
The History
In the 17th century the English side cabinet on stand appeared, fitted with several drawers, cupboards and secret compartments enclosed by a pair of panelled decorated with marquetry inlay was fashionable. The 18th century furniture designers created the 'china display cabinet' to show the fine oriental porcelain, frequently decorated in the chinoiserie style to match the items within. By the mid 19th century the ownership of porcelain items was no longer just for the very rich, now far more people aspired to the possession of things worthy of display and several new ceramics factories both at home and abroad worked to satisfy this growing appetite. The result was an explosion of designs for antique display cabinets, some dripping with ormolu; some richly inlaid in fine woods or cut brass, others in the style of Sheraton and Adam and wall hanging.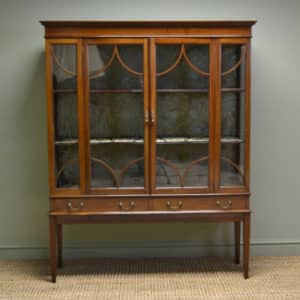 More country cupboards were produced in the Victorian period in simple designs like the Arts & Crafts house keepers or the harness design some polished and occasionally painted. The Edwardian era was a time of new design in
Antique Furniture
with pieces being made to store sheet music designed by renowned makers such as
Maple and Co
to matching pairs of Bedside Cabinets, in beautifully figured walnut with fitted marble and French Art Nouveau influences.