Antique Dressers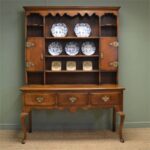 Antique dressers are charming country pieces of period furniture used for display and we have some lovely examples for sale in wonderful oak, pine, walnut and mahogany.
Showing all 11 results
Kitchen Dressers from the Georgian period can be more rustic, with pegged construction, old clout nails and plate racks for storing pots and pans. Welsh Dresser bases can be more sought after as they are more useful with a working surface and lots of storage space. The best examples come with the original aged character that has been lovingly waxed over 100s of years or unusual pieces are still in the original paint finish.
Victorian and Edwardian pieces were finer looking and designed to display fine china but also have drawers for cutlery and cupboards for the larger bowls.