Antique Mahogany Furniture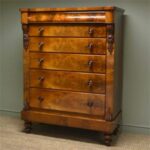 Driscolls Antiques offer beautiful examples of traditional antique mahogany furniture for sale from the early periods of Georgian, Victorian and Edwardian eras, all beautifully restored to a high standard and cheap UK along with worldwide delivery is available.
Showing 1–12 of 95 results
Antique mahogany furniture is seen in all periods from very early forms of furniture like the Georgian era through to the Victorian and Edwardian periods. It was very popular as it is a hardwood, so is durable, solid and easy to work with when building furniture by cabinet makers. Mahogany can be seen used on country pieces to very fine and expensive pieces and because of its durability you see many fine examples of furniture for sale today.
Mahogany is a hard wood which can be anything from a red, brown or golden in shade. The timber was used in antique furniture construction throughout the ages, seen in early periods but more widely used as time went on. Mahogany originates from various areas in south and North America, the West Indies and Africa, areas that were mainly under the British control and hence why it was so widely exported into Britain. In the Georgian period it was mainly imported from Jamaica. The name originates from the West Indies where the local people named the trees a similar sounding name and the British translated this into mahogany. Mahogany comes in various strait grains, called different names like Cuban which is a dense solid and usually dark in colour, often used in Georgian pieces or more figured grains like flamed or fiddle back. Mainly used in musical instruments was Honduras from Central America and was the ideal wood for carving. Plum pudding has unusual knotting in the grain caused by either fungus in the wood or at the tree stump and this caused a fascinating grain finish on the furniture. Brazilian timber was mainly used in fine furnishings. It is a very slow grown timber and so is solid and hard and so was the choice of use by cabinet makers, It is also a type of wood to offer that perfect finish when polishing. Period pieces in this timber can either be solid or veneered and can be from anything from wardrobes, chests of drawers or tables and chairs. You know your furnishings have been built to last as it is such a durable and quality timber. It can offer a fine patina and colour when being old and due to the solid construction it will last for many 100s of years as a usable piece of furniture if cared for correctly.