Antique Desks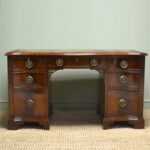 Driscolls Antiques offer the finest quality traditional Antique Desks for sale and original Antique Bureaux, beautifully restored to the highest standards, dating from the glorious early Georgian era to the wonderful Victorian and Edwardian periods in quality woods such as fine Mahogany, country Oak and figured Walnut with a wonderful patina.
Showing 1–12 of 54 results
The History of Antique Desks
Antique Bureau
The earliest form of antique writing furniture is the bureau; it appeared in France ca. 1650 and was a fall fronted cabinet. Soon after similar desks appeared in England and these had gate legs to support the fall fronts when open. The insides had drawers, pigeon holes and sliding bible wells for concealing important papers. The carcasses were usually made from oak or pine and had figured veneers like burr walnut, or oyster veneers. By the 1700s the gate leg supports were replaced by sliding lopers at each side, the lower section was generally separate from the writing section, standing on turned or Queen Anne cabriole legs.
Around the 1720s the bureau sections were combined with the chest of drawers, and bracket feet replaced bun feet. Veneers used included walnut, burr walnut and provincial craftsmen used solid oak and elm. Decoration came in several forms using herringbone inlay, stringing or cross banding. Mouldings on the fronts of the dust boards between drawers were replaced after ca 1740 by cock beaded edges on the drawers. This form continued throughout the 18th century except the main timber used in the Georgian and Victorian periods was mahogany.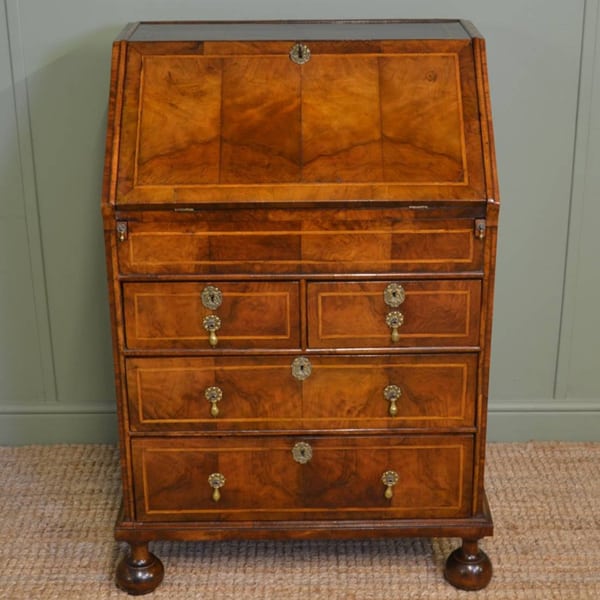 The bureau cabinet or also known as the secretarie, with the interior of shelves, drawers, and pigeon holes enclosed by doors, was a development of the basic bureau but had a cabinet on top. They had architectural features such as columns and pilasters, as well as drawers, cupboards, divisions for documents and secret compartments. The bureau cabinet evolved into the bureau bookcase with glazed cupboard doors and wonderfully fitted interiors.
More intellectual activities prevailed and the library was an important statement of any educated gentleman's commitment to self-improvement and learning. Fine rooms demanded
fine furniture
and the major makers and designers of the age, included Thomas Chippendale and Thomas Sheraton who responded with notable and original pieces. As time went on paper became cheaper and education improved, so the need arose for less grand and finer examples were made for the lady. A new range of designs were produced and Neo classical designs were made in exotic woods such as satin wood, which suited to this lighter style and many were with fine parquetry inlay.
Antique Pedestal Desks
The pedestal or kneehole desk had two uses, a dressing table and for writing. They first appeared in France and the Netherlands in the second half of the 17th century. Early examples were commissioned by members of the French court as luxury items, usually mounted with moulded brass borders and elaborate escutcheons or ormolu keyhole mounts. Wooden Georgian desks from 1760 to 1820 were larger and constructed in solid mahogany, standing on shaped bracket feet and more comfortable to sit at than the earlier smaller models. Slightly later Regency examples used more exotic timbers such as rosewood, calamander, amboyna and ebony decoration or fine brass inlay.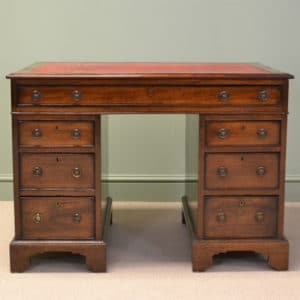 Antique Partners Desks
The late Georgian era was the first time the larger partners desk was seen with working drawers and cupboards on both sides. These larger pieces were mainly used in offices like banks, solicitors, accountants and other professions that were high up in society, this is why they are usually constructed from superb quality timbers as no expense would have been spared.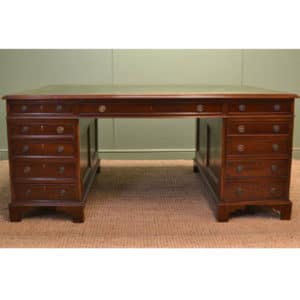 Victorian Desks
The Victorian era continued with similar pedestal designs but introduced more elaborate decoration such as satinwood, marquetry inlay and painted decorations. The Victorian cabinet maker did experiment more and created new shapes like the Kidney, bow and Cylinder front.
Unique new designs were introduced like the dickens desk; it got its name as it is believed Charles dickens wrote his works on this type of writing furniture.
The antique davenport was made by the renowned furniture makers Gillows of Lancaster in the George the III period and was first built and commissioned for captain davenport. Most have drawers that open at one side and have fixed dummy drawers on the opposite side with a writing slope lid.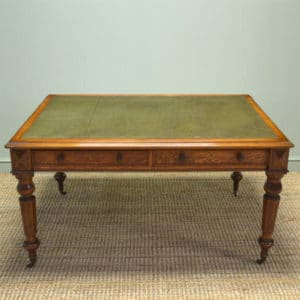 Edwardian Desks
The Edwardian cabinet maker had new machines so were able to make some very nice new features such as the roll top, a tambour front which was slatted and came with a locking mechanism that locks all the drawers when closed. They also copied earlier designs such as the Carlton House writing desk, originally designed in the 18th century for the Prince of Wales by the renowned English cabinet maker and furniture designer George Hepplewhite. It is named after Carlton House, the London residence of the Prince of Wales at the time.
New movements developed such as the Arts and Crafts and Art Nouveau, so these influenced decoration on furniture of this period. More elaborate inlay was used along with very fine timbers. This changed in the vintage art deco period of the 1930s when furniture became cheap to build and mass produced, but the quality was still of a high standard as they still had access to wonderful timbers.