Antique Bookcases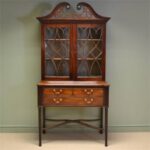 Driscolls Antiques has a large selection of traditional antique bookcases for sale and fine period bookshelves with cheap UK delivery available. We stock different periods from the Magnificent Georgian, Impressive Regency, High Quality Victorian and Glorious Edwardian eras in fine woods such as highly finished Mahogany, figured Walnut, country pine and Solid Oak, restored using traditional methods of restoration.
Showing 1–12 of 24 results
The History of Antique Bookcases
The antique bookcase provided 18th and 19th century furniture designers a new suitable subject for architectural themes. Massive breakfront library bookcases were made with ornate cornices and pediments which in turn were decorated with urns, busts and decorative carving. These major pieces of furniture were viewed as statements of wealth, culture and education too.
Georgian Bookcases date throughout the Georgian periods from 1714 to the early 1800s. Usually standing on shaped bracket feet with brass handles and astragal glazing, these pieces are simple but elegant, constructed from high quality timbers and would grace any home. The renowned cabinet maker Chippendale preferred to use mahogany due to its durability and fine finish that could be achieved, so you see fine quality mahogany bookcases from this era.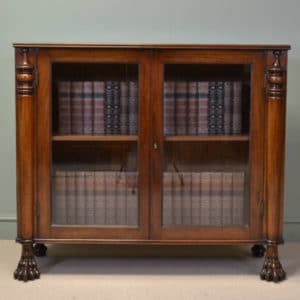 The William IV and Regency periods produced similar designs but more fine and traditional in detail with the use of unusual woods like figured rosewood, zebra wood and decorations like Corinthian columns. These little details can make a piece of furniture stand out from a crowd and very sought after by collectors.
Victorian bookcases date from Queen Victoria's era of 1837 to 1901 and the idea was usability, rounded corners, highly French polished and towards the end of her era, carvings. The vast wealth of the Victorian period meant more houses were being built and more furniture needed to fill them, so you can see lots of new styles emerging. Mahogany and oak was mainly used in the Victorian era, Cabinet makers such as Gillows liked to use oak in Libraries, offices and Schools in simple arts and crafts designs. Other makers like Globe Wernicke made barrister stackable examples and these are very sought after.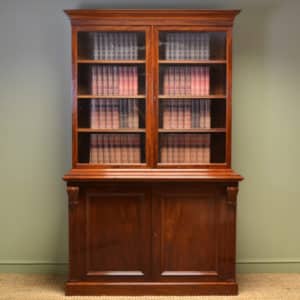 The antique bureau bookcase or Secretaire is a piece of furniture with a glazed doors above a bureau base so it was designed to sit at whilst writing, but have ease of access to your books above you. Often used for the Gentleman in his office, they were grand and tall, the interior contained small very usable drawers and several pigeon holes for your stationary. It was fashionable for the display of fine leather bound books in the 19th century so small antique open bookcases were produced, some being revolving. They were open fronted, very simple in design and had adjustable shelves and occasionally made to stand freely in the middle of the room.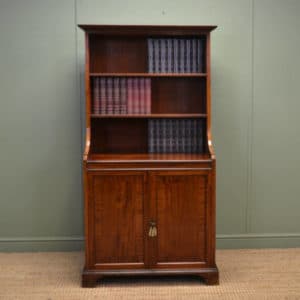 During (1901 – 1910) furniture was more mass produced and with the use of machines on a larger scale, but quality still prevailed. Often earlier styles were copied from fine satinwood Sheraton and Hepplewhite to more heavy Jacobean and Gothic. The Queen Anne design was popular and new styles such as Art Nouveau appeared with fine flowing lines. Wooden bookcases from this period are still reasonable to buy but you still get a quality piece of furniture, usually cheaper than a modern reproduction. Walnut was widely used in the Edwardian bookcase, either a plain American walnut or a more figured Burr walnut effect. Vintage, French Art Deco pieces are also often in walnut due to the golden shades that could be achieved and this fit the fashion of the period perfectly.