Edwardian Furniture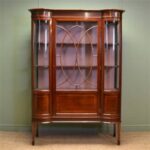 Driscolls antiques have a wide range of the finest quality Antique Edwardian Furniture for sale in beautiful woods such as Mahogany, Oak, Walnut and Satinwood. All our antiques are sympathetically restored to the highest standards by our traditional furniture restorers and cheap UK and worldwide delivery is available.
Showing 1–12 of 52 results
Antique Edwardian furniture is pieces made during King Edward VIIs reign in Britain from 1901 to 1911. This was the era when mass production really began in a large scale with bedroom suites and dining room pieces being the most produced. With lots of pieces from this period, quality was still visible as super timbers were used like walnut, mahogany and oak.
The main focus in design was older styles being copied but these were adapted to fit the more up to date living with comfort in mind. Cabinet makers realised that earlier designs were outselling new pieces of furniture as the second hand (antique) furniture was becoming very fashionable. You can see many pieces from this period as the dramatic rise in the middle class meant many more homes were built and so many more furnishings were made to fill these homes. Machines were now regularly used in the construction and this lead to new movements such as the Arts and crafts and Art Nouveau, with traditionalists wanting older construction mixed with new styles.
The style of Chippendale and Hepplewhite were extremely popular, with the Hepplewhite shield back dining chairs and the Chippendale rococo carved back chair being especially popular. The main timbers used were mahogany, oak, satinwood and walnut so items were very well built, still with dovetail joints, fine figured veneers, cross banding and decorative features.
Our website offers some stunning examples of Edwardian antique furniture for sale in super condition, as we carefully restore them to the highest of standards.