Georgian Furniture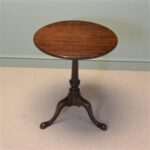 Driscolls Antiques stock genuine, traditional antique Georgian furniture for sale in fine figured mahogany to more country characterful oak, all beautifully cleaned and restored to a high standard with UK and worldwide delivery available.
Showing 1–12 of 27 results
Antique Georgian Furniture refers to styles that evolved during the long reign of England's three Georges, I, II, and III, from 1714 to 1820.
Georgian furniture is well designed and built to a high standard, using quality woods such as oak and mahogany, with the use of dovetail joints, clout nails and handmade iron screws. Georgian designs formed a distinct contrast with earlier pieces as a new simplicity was sought after. English examples were mainly plain and simple and followed architectural lines of buildings. Furniture was crafted by hand and solid woods were readily available along with good metal-wear so quality was paramount.
As the British Empire expanded throughout the world, more woods became available and the main change to fashions occurred in the reigns of George 1 and George 11 by the replacement of Walnut with Mahogany (Mahogany was imported mainly from Cuba and Honduras), cabinet makers liked the new close grained wood which is much harder and was not prone to wood worm unlike the previous pine and walnuts used in construction. Mahogany was more suitable for the grander pieces which were in high demand for the new taller buildings, also being a strong timber, it made furniture long lasting and you could achieve a rich dark red colour which was sought after in the period.
In the early Georgian times the main styles were similar to the Queen Anne period but with slight modifications, pieces were given more elaborate pediments and sturdier cabriole legs. Early Georgian furniture was mainly simple like the cricket table which would have a plain solid top supported by three simple turned legs, Plain Oak hanging corner cabinets
(with features like fielded panels) along with refectory tables, chest of drawers, coffers and settles. The more elaborate pieces were constructed from walnut, like a chest on stand, sometimes with ball and claw feet and cabriole legs. Card tables also became popular in the same construction and style.
By Mid Georgian times, Britain got wealthier and more middle class wanted better pieces of furniture, this was a real boom for the English Cabinetmaker. Some of the greatest furniture designers were around, Thomas Chippendale, who promoted more French Rocco style and Robert Adam who introduced the "Greek" neo-classicism to Britain. George Hepplewhite and Thomas Sheraton were also two more well known cabinet makers who had a huge impact on furniture design in the 18th century. These styles are so popular they were copied throughout the Victorian and Edwardian eras and are still copied today. The simple straight lines were starting to change to more curved styles, motifs and ornamentation but the more classic designs still lasted throughout. The Hepplewhite and Chippendale chair sets, tea tables and dining tables were now popular. Bookcases became less architectural looking and more delicate in design with swan neck pediments and astragal glazing. Chest on chests with rococo swan neck handles and canted corners with rococo designed carvings were all very popular and usually constructed from Mahogany.
By the late Georgian times there was more use of painting, inlay, veneer, light carving and marquetry giving a decorative edge to furniture. Mahogany was still the first wood of choice but satinwood was starting to become quite popular. Bow fronted, concave fronts and cylinder shapes were becoming fashionable and grander pieces were being made such as huge break fronted library bookcases and large pedestal desks to offer grand pieces for the Georgian gentleman to show off in their home.
You can usually date a Georgian piece by the construction and style.
Brass and ebony were increasingly used for decoration in the later Georgian times as were banding with string inlay, the most common foot was the bracket foot and the later pieces sometimes had an ogee bracket foot. The very early pieces may have been of a pegged construction, held by pegs or dowels instead of glue or screws. Some drawers would operate using mortise-and-tenon joints also. From the early Georgian times the most common way of construction was by hand cut dovetail joints which were glued, hand cut clout nails for the backboards and sometimes handmade screws were used. The most popular style of handles was drop and swan neck handles although oval decorative designs were used on chests.
If you are interested in antique Georgian furniture for sale, see our wonderful selection available on antiques world.