Regency Furniture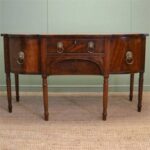 Here at Driscolls Antiques we offer a beautiful selection of fine antique Regency furniture for sale, beautifully restored using traditional methods bringing them back to their former glory, in beautiful timbers like Rosewood, Mahogany, Oak and Walnut.
Showing 1–12 of 19 results
Regency furniture dates from a small period of time 1811 to 1830, when Prince George the Prince of Wales was Regent. During this era, foreign influence was high in fashion in the design of antique furniture and Inspiration from times of old, with neoclassical and empire styles from Egypt, Greece and Rome. It was the new fashion to commission cabinet makers to copy exact replicas of ancient furniture and even copy early stone furniture, producing them in timbers such as mahogany. The houses of the period also had these unique features integrated with large Corinthian columns and pediments above the entrance, meaning this new fine furniture would fit in perfectly. Exotic woods were used from rosewood, zebrawood and interesting inlay was used like Brass. Mahogany was still very widely used as cabinet makers liked the durability and finish that mahogany offered. These pieces had to be highly French polished to offer that 'mirrored' look. Features such as the brass lion paw feet, sabre legs, reeding and out-swept legs were widely used on pieces such as card tables, chairs and Dining tables, with motifs and fine inlays.