Antique Rosewood Furniture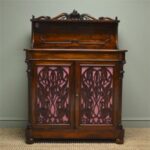 Driscolls Antiques offer fine quality antique Rosewood furniture for sale with a beautiful grain and patina, that we carefully restore using traditional methods of restoration. Our antiques range from Regency, William IV and Victorian eras, displayed on our website with cheap UK and worldwide delivery available.
Showing 1–12 of 20 results
Antique Rosewood furniture is mainly seen in expensive, finer quality pieces of antique furniture from the Regency and William IV periods. Rosewood has a particular striking grain, not seen in other woods and so offers a unique look. Originally they would have been highly French polished but over time can age to a more mellow sheen and so can make a real statement in your home.
Rosewood was often seen in card tables and decorative smaller antique furnishings, it was a very expensive wood to use in the 19th Century so it was only ever used on choice pieces by master cabinet makers. The grain is quite fantastic with darker figuring in the lighter shades, so offering an amazing finishing touch. Cabinet makers such as Gillows used this timber in there fine pieces or as a decorative inlay banding. Rosewood was also used as decoration in later Victorian and Edwardian furniture with cross banding and floral panels.
If you are looking for beautiful original antique rosewood furniture for sale, look at the fine examples available on our website from good early English periods, not only will this enhance your home but also be a wise investment due to the fine construction and being very collectable.