Antique Sideboards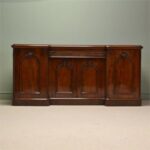 View our Beautiful range of genuine Antique Sideboards for sale along with traditional Antique Chiffoniers and Credenzas in fine quality timbers such as Mahogany, Oak and Walnut. We have some astonishing designs from the different British periods of Regency, Victorian and Edwardian eras with decorative features.
Showing 1–12 of 20 results
The antique sideboard comes in many different forms over the centuries and was originally designed for use in a dining room with your buffet or side server. The earliest form was a chiffonier, the antique chiffonier was mainly constructed from mahogany and rosewood in the Georgian and Regency periods. They are usually of smaller proportions with shapely backs.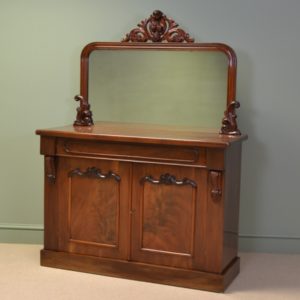 The Edwardian and Victorian Cabinet makers were more inventive and produced new styles in figured woods such as walnut or oak. They produced more decorative sideboards like the antique credenza, a stunning piece of furniture designed to be very lively with the use figured woods and brass fittings. It takes its name from a 15th century Italian buffet and is distinguished by the bow front or serpentine shaped shelving which flanks its central cupboard, often with delightfully carved floral designs, sometimes with a marble top or mirrored back.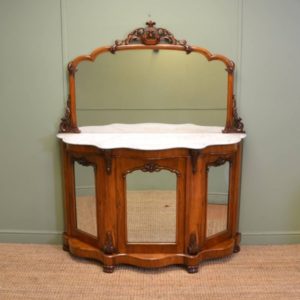 Driscolls Antiques offer a beautiful selection of fine quality antique sideboards for sale from all periods and in striking woods.