Antique Chairs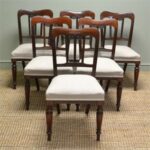 Driscolls Antiques stock the finest quality antique chairs for sale, beautifully restored in woods such as stunning Mahogany, wonderful Oak and eye-catching Walnut with cheap worldwide and UK delivery available. We sell traditional dining chairs to more comfortable upholstered seating in beautiful condition from the British designers such as Georgian Chippendale, Traditional Victorian and fine Edwardian Hepplewhite.
Showing 1–12 of 88 results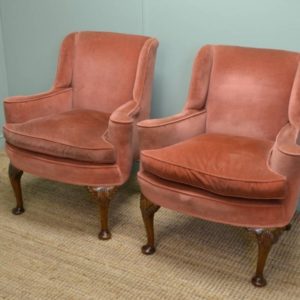 The history of Antique Chairs & Seating
The earliest seating was simple benches or stools seen in medieval times; unless you were wealthy then the master of the house would have the odd grand designed large period chair as this was a symbol of rank and position.
The stool was the earliest form of seating used in rural farm houses; kitchen or public rooms with the three legged stick stools of a simple trestle construction. In court life, strict rules governed who was entitled to sit on a stool, in 17th century England, there were low upholstered stools known as tabourets for the ladies who would sit in the presence of the King.
Most early seating were made from locally sourced timbers, such as oak, pine and beech but the more elaborate styles were introduced into England from continental Europe in highly figured walnut, more suitable for carving as it did not crack or split.
By the 18th century, English seating began to develop its own characteristics and style, like the Queen Anne chair with its bold curved lines and a solid vase shaped splat running from the crest to the seat rail with curved cabriole legs, often finished with a pad foot, hoof, paw foot or a ball and claw foot as carved decoration.
The Period country oak settle was a good old piece of country furniture with a cushioned seat, slatted oak boards, the most desirable with a high back and unusual examples have curved backs. They were of pegged construction with lots of beautiful character from years of use.
Windsor antique chairs were originally found ca.1720 in Georgian taverns and coffee houses. The earliest examples have comb backs, plain turned splayed legs, and no stretchers. Cabriole legs suggest a date between 1740 and 1770. The hooped back was introduced ca 1740 on-wards and the wheel splat around 1790. The most desirable wood was yew, followed by elm or ash and the rarest are in the original japanned black or green paint finish.
Traditional Georgian chairs had fine quality wooden timbers such as oak, walnut and mahogany. Thomas Chippendale was at the forefront of design along with George Hepplewhite and Sheraton. They leaned towards the more robust forms of seating and their designs were inspired from ancient Greece, Rome and Egypt.
The smell of food in 18th century dining rooms was considered very bad and so upholstered furniture was mainly in leather and horse hair rather than fabric, which were thought to not store any odours. The furniture designer Robert Adam stated that "there should be no wall hangings or curtains in a dining room to prevent smells."
Regency antique chairs date from 1810 to 1830 and come with beautiful features such as sabre legs, scrolled arms and the Lyre back. A Lyre is a stringed instrument that was used in ancient times; the shape of the instrument was used in Regency furniture, often on games table sides or in chair backs. Carving was limited to the top rail and splat, with motifs in Greek architectural decoration and woods such as rosewood with brass inlay.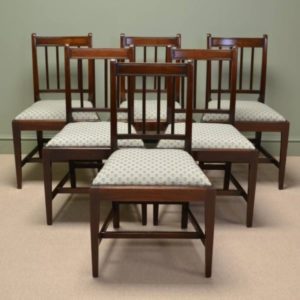 Comfort was the main focus in the Victorian era; they loved upholstered pieces that would be prominently displayed in their living room with buttoned backs and loose cushions. Fireside carver armchairs, hall, Wing and nursing chairs were set in front of the fire to keep you warm on those cold winter nights. Also the upholstered Chesterfield sofa and settee along with examples such as the daybed or chaise lounge were seen in the bedroom. Entertaining and Dining was a big part of the Victorian lifestyle and so antique dining chairs were an essential furnishing for the home, with new unusual balloon backs in mahogany, made between 1850 and 1880 in Britain.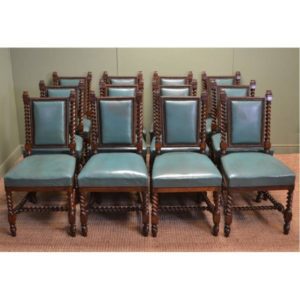 From 1901 to 1910 was the Edwardian period when the largest production of antique wooden dining room chairs being produced due to high demand as there was a large new wealth in Britain. Many earlier traditional period designs were reproduced along with new stylish French Art Nouveau bentwood, Vintage Art Deco and Arts and Crafts high ladder backs. Mahogany and walnut were still the main timbers of use along with more solid oak.