Antique Card / Games Tables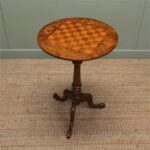 Driscolls Antiques Ltd stock a verity of fine quality, genuine antique card tables and traditional antique games tables for sale in beautiful timbers such as Burr Walnut, Figured Mahogany and rich Rosewood. All have been carefully restored to a high standard using traditional methods of restoration, by our skilled restorers. UK and Worldwide delivery is available.
Showing 1–12 of 17 results
The History of the Antique Card Table
Antique Card and Games tables were first introduced in the early 18th Century in the Queen Anne design with veneered figured walnut or Oyster veneering and stood on cabriole legs. The legs were on a gate leg action to support the top when opened up. They would often have carved decorations like a shell motif and carved counter wells for money.
In the Georgian period, Mahogany was used more in the construction as it was more fashionable and easier to work with for the cabinet makers. Gambling and Card playing was more popular than ever and so the designs became more elaborate and the craftsmanship became far superior with super quality timbers used.  More shapes were introduced along with better, more robust designs; the top would now swivel and open with usually a green baize playing surface, under which can be found a concealed games storage compartment (ideal for card storage).
This continued throughout the Regency, Victorian and Edwardian periods, with rosewood, Walnut and Mahogany used and as these were such good quality prised possessions, you can see some stunning examples in super condition still for sale today.