Antique Wardrobes
Here at Driscolls Antiques we offer a fine selection of beautifully restored, quality traditional antique Wardrobes for sale including genuine Armoires from the simple Georgian, decorative Regency, highly polished Victorian and attractive Edwardian periods in beautiful timbers like fine figured mahogany, burr walnut and well grained golden oak.
Showing all 5 results
The earliest forms of English hanging furniture are Georgian wardrobes that date from the 18th Century. They are simple in design but are also the most sought after and collected from antique enthusiasts. Good examples are seen in the finest quality mahogany timbers, with decorative dental moulding, fine inlays and two full length doors with a with decorative brass embellishment. The more country looking pieces were in oak and pine or occasionally can be seen in an early paint finish.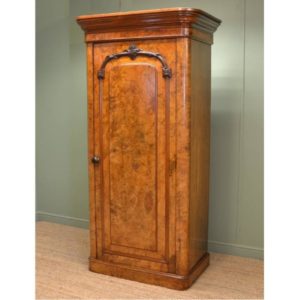 Victorian Wardrobes
The Victorian period in the 19th century built their furniture with more rounded corners, pilasters, turned handles, bun feet and highly French polished. They were built to impress using very fine timbers used like elaborate burr walnut, rosewood, and fine inlay details such as sunburst or cross banding. New shapes appeared in the construction from bow front to unusual serpentine front and the cabinet makers started to make more choice by producing varied sizes. The smaller single wardrobe was made to fit into alcoves, a hall or tight spaces. Double wardrobes were deeper to fit a hanging rail for modern coat hangers and Triple wardrobes had impressive breakfronts that really made a statement in a bedroom. These styles soon changed in the later vintage Art Deco periods with the new cloud shapes appearing and less fussy styles, but they often used striking figured burr walnut and large mirrors for decoration.