Antique Chest of Drawers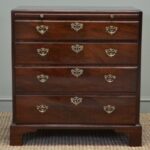 Here at Driscolls Antiques We have a wonderful selection of fine quality, Genuine antique chest of drawers for sale in the UK, with cheap UK delivery available. From Traditional Early Georgian Oak Coffers, to wonderful highly polished Edwardian and Victorian chests, all are displayed online with new stock being added on a regular basis.
Showing 1–12 of 44 results
How Chests Developed throughout History
The antique chest has changed dramatically over the centuries due to better tools, better cabinet makers and wealthier people leading to larger demand. The earliest form was a box with lid, known as the coffer. The antique coffer is the earliest type of furniture on record, seen as far back as the 13th century. It was made of six planks of wood joined by primitive old clout nails, called the six plank coffer. The coffer was designed to be portable, so some have handles on the sides and banded with iron for strength around the corners. The mule chest was a development of the coffer being impractical; it was difficult to reach items stored at the bottom of the chest so the coffer was fitted with a drawer in the base.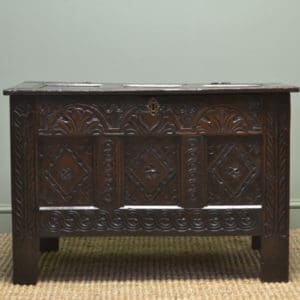 In the 15th century, the first chests started to appear with drawers of simple panelled construction, with mortise and tenon joints, held by pegged dowels. Pine was used in many pieces of old county furniture and many pine chests would have a decorative paint finish which remarkably can still be seen on rare pieces today. By the 16th century drawers had become a common feature in furniture and the chest of drawers was becoming more popular.
The Chest on Stand, also known as highboys was often seen from the William & Mary or Queen Anne period in beautifully figured burr walnut. They stand on cabriole legs with pad feet or turned stands with bobbin feet.
Different designs started to appear, in the early 18th century, chests were still plain in shape and rectangular, but from the mid to late 18th century the serpentine shape was produced. The bow fronted chest did not emerge until the 1770s in the Georgian period.
Georgian Chest of Drawers
Georgian chests can be a wise investment, made in many different timbers with the lovely charm and character, seen in original period pieces from years of use and waxing. Georgian chests of drawers have brass, oval, swan neck or simple turned handles and bracket feet including splayed or ogee designs. Although they are simple in style they are quality pieces of furniture with a distinctive fine look and usually constructed using quality timbers. The Antique Oak Chest of Drawers is popular from this period as oak was readily available in Britain. These particular pieces can date from the early 18th century to the early 19th century when The three kings were in power from George the first, George the second and George the third. Drawers from these periods have hand cut dovetail joints and old clout nails in the back boards. Important furniture designers built chests in this period like Chippendale, Hepplewhite and Sheraton. Even though these pieces are over two hundred years old, many are still in good condition with a fine patina and would grace any home.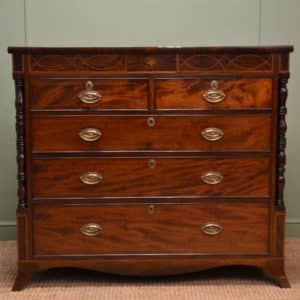 The antique chest on chest, known as the tall boy is very tall with at least eight drawers and you often see Chippendale features like ogee bracket feet and a brushing slide. Earlier models are in walnut with feather banding, overlapping drawer mouldings and bun or bracket feet.
Victorian Chest of Drawers
After the Regency and William IV periods came the Victorian chest dating from the late 1830s to 1901. Early Victorian chests are simple in design with a square carcass and detailing like turned handles and solid timber construction. In the Mid Victorian era larger houses were built with larger rooms so tall chests with lots of storage were made. They had rounded curved corners; some intricately made with serpentine or bow front shapes and turned bun feet. They were highly French polished with Inlay depicting shells and floral designs. Carving and distinctive detailing like carved corbels, quarter columns or spiral shaped sides were seen along with String inlay or brass inlay on the drawer fronts. Finely figured antique mahogany chest of drawers were the main wood of choice during this period and they were built to such a high standard you still see them in very good condition with a beautiful patina.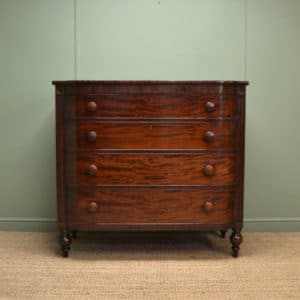 The Campaign or military chest was first seen in the Napoleonic wars, they were made to dismantle as an officer would have these pieces transported anywhere he was at camp so usually come with brass carrying handles. You can often see these pieces in camphor wood or teak. Some military chests have the makers stamp Army & Navy CSL, which stands for The Army and Navy Co-operative Society Ltd. This was formed in the late Victorian period by a group of army and navy officers as they wanted to supply good quality furniture and other items to its members at very low cost. They supplied items such as furniture, guns and golfing equipment. There stores was worldwide and was a huge success.
The Wellington chest was named after the Duke of Wellingtons victory of 1815, they tall and narrow, usually with seven working drawers, one for every day of the week. They are English made and have a swinging locking arm that locks all the compartments with one key. This was also a campaign piece of furniture that was often in the officer's tent whilst at war.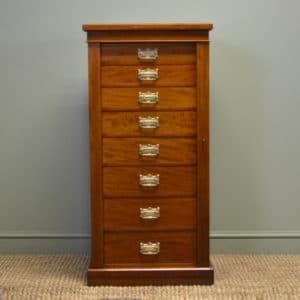 Edwardian Chests
The Edwardian Chest was produced between 1901 and 1910. These wooden chests used influences from earlier periods along with the French new Art Nouveau and Arts and Crafts designs. They were mass produced with machine cut dovetail joints, but still of good quality with oak linings and solid timbers. The Antique Walnut chest of drawers was most popular during this period and walnut was still used in the Art Deco vintage period of the 1930s as it displayed wonderful figuring.