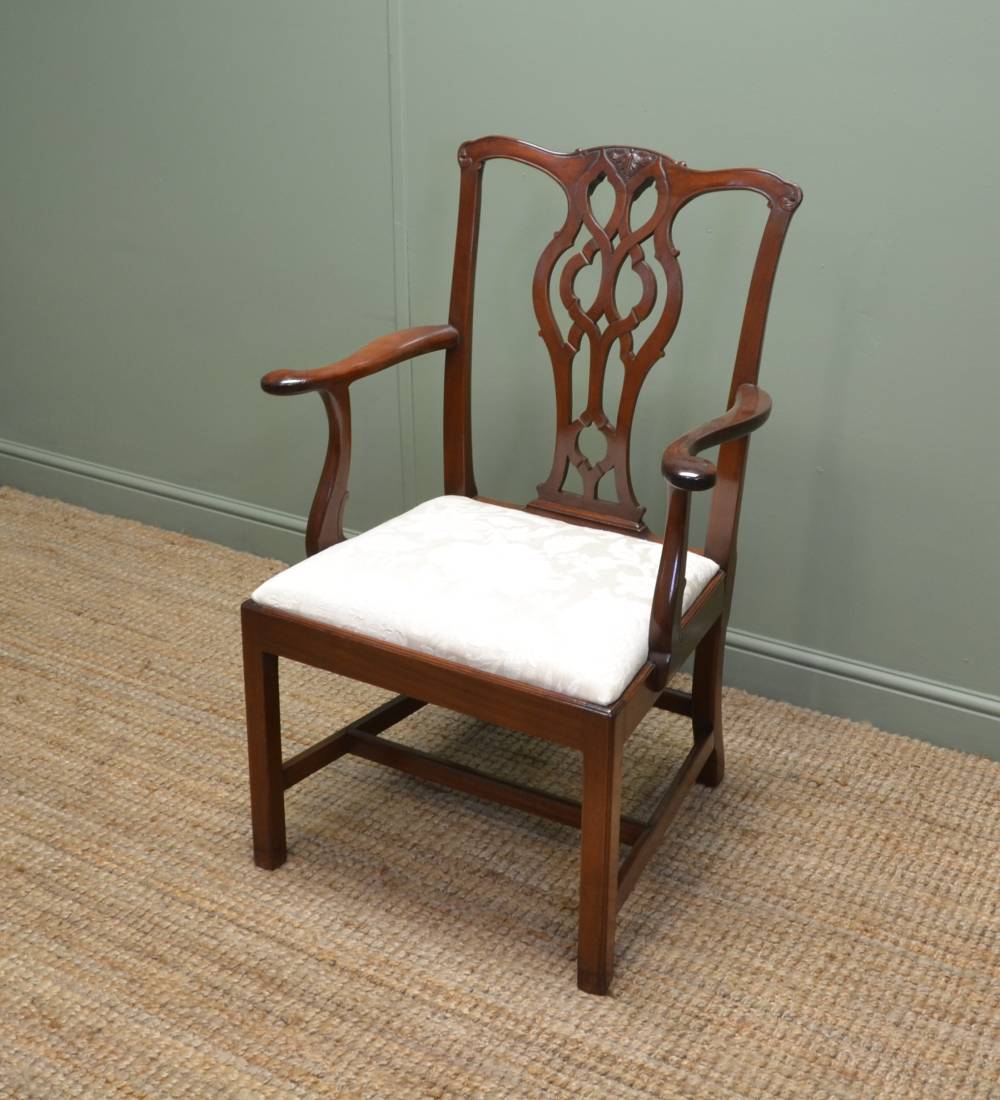 Original Chippendale antique furniture refers to furniture designs by the cabinet maker Thomas Chippendale, he is one of the best cabinet makers and designers of his time. 'Chippendale' usually refers to an age rather than the man. This age was from around 1730 to 1780.
Thomas Chippendale (1718 -1779) was one of the most influential furniture designers of the 18th Century. He was from Otley in Yorkshire and was a son of carpenter, John Chippendale. He did his apprenticeship with his farther and then moved to London when he was around 20 years old to set up a workshop near Covent Garden market. This is where he began designing some beautiful pieces of Chippendale furniture.
The huge Chippendale influence was because of the book he published 'The Gentleman and Cabinet Maker's Director', in 1754, a book of fashionable and desirable English antique furniture. This was the first ever catalogue by a cabinet maker dealing exclusively with furniture. It showed all different designs such as Chinese, Rococo and Gothic styles. It showed cabinet makers a practical way how they could apply fashionable detail to their work. This is where the Chippendale style started as most of the pieces were not made by Thomas Chippendale himself, but were copied from this book of designs. He produced some of his finest work for the designer Robert Adam and his work was well known, in Britain but also across the waters in the USA.
Either Thomas Chippendale or other furniture makers produced some of the finest antique mahogany furniture ever constructed and seen. In the first year of the classical revival in England ca. 1760, a grand tour influenced designs of new houses, interiors and there furnishings. Although mahogany was the main wood used at this time, the finest court furniture was veneered in satinwood. This elegant light colour of wood was ideal for classical the revival pieces.
Chippendale Chairs
Chippendale displayed his unique furniture in his catalogue 'The Gentleman and Cabinet Maker's Directory' and this lead to Georgian, Victorian and Edwardian cabinet makers copying his designs. Chippendale antique chairs were one of the most copied designs throughout the 19th Century and is still used in reproduction furniture today. The Chippendale chair became such a huge success with the iconic pierced backs, having decorative carvings to the top, splayed back legs and squared front legs with chamfered corners.
below are some previous examples that we have sold, like this Magnificent Set of Twelve Antique Victorian Chippendale Style Dining Chairs, dating from around 1890 in the Victorian period. these chairs are quite rare being a set of twelve consisting of two carvers and ten dining chairs. They are all of a quality build, constructed from the finest mahogany timbers and with attractive detailing. They also benefit from 'H' stretchers providing them with that all important added stability.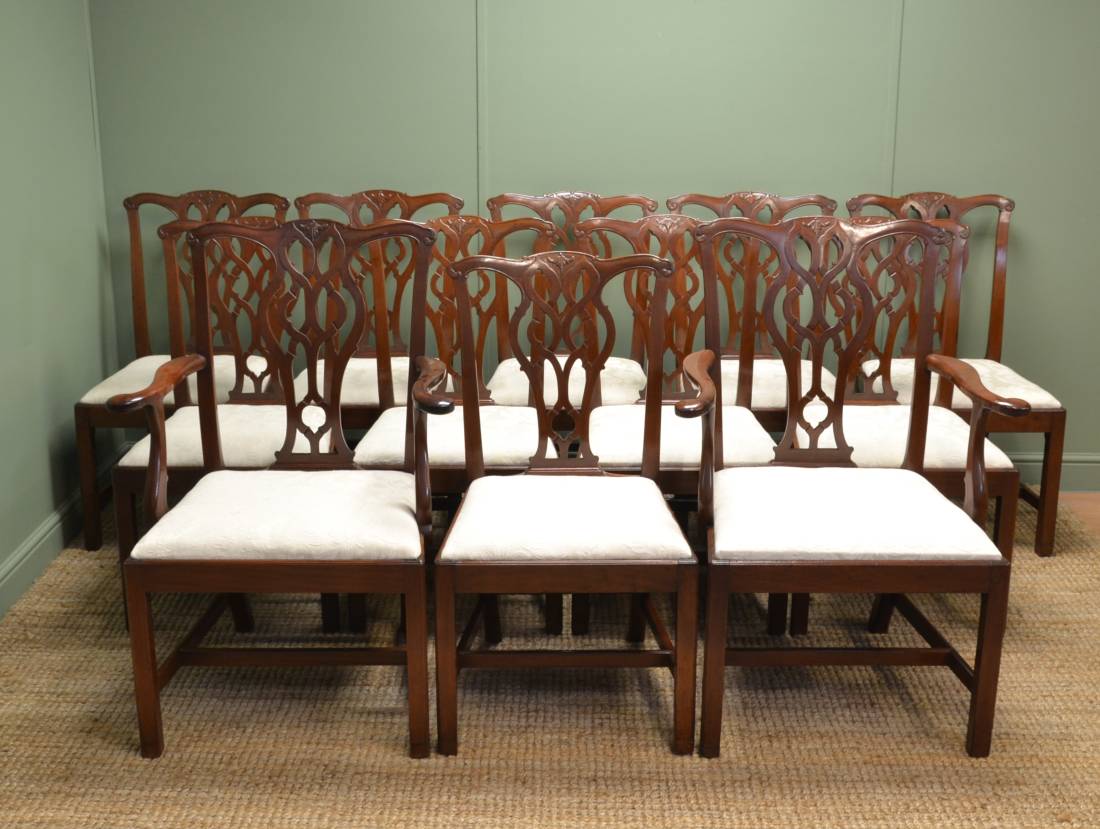 This stunning Set Of Six Edwardian Warm Mahogany Chippendale Design Antique Dinning Chairs upholstered in a faux leather and are in exceptional condition.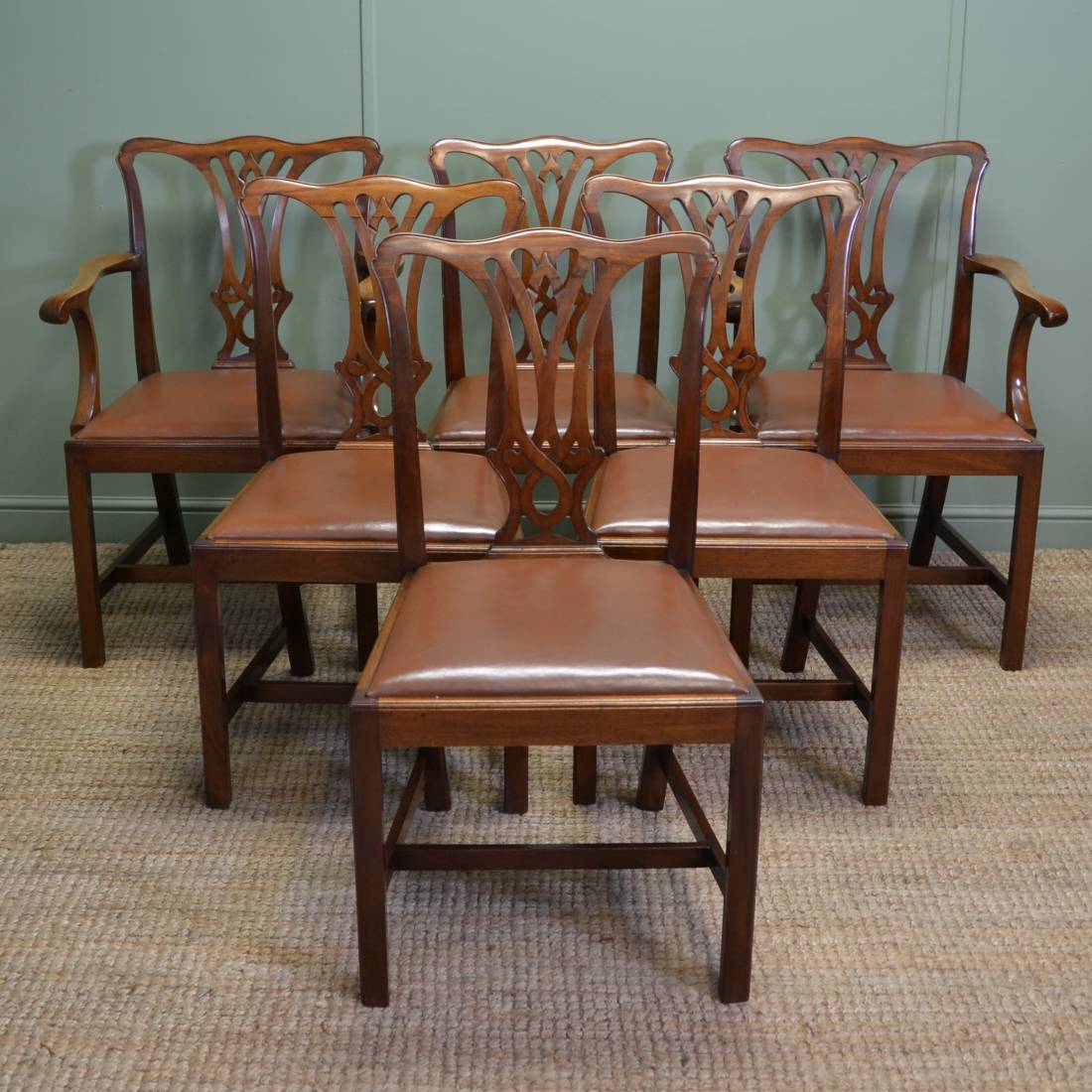 This is an unusual Pair of Chippendale design Antique Victorian Painted Walnut Side Chairs Dating from around 1890 and constructed from solid walnut. These quality chairs have beautifully moulded backs with shaped, pierced, swags and tails design.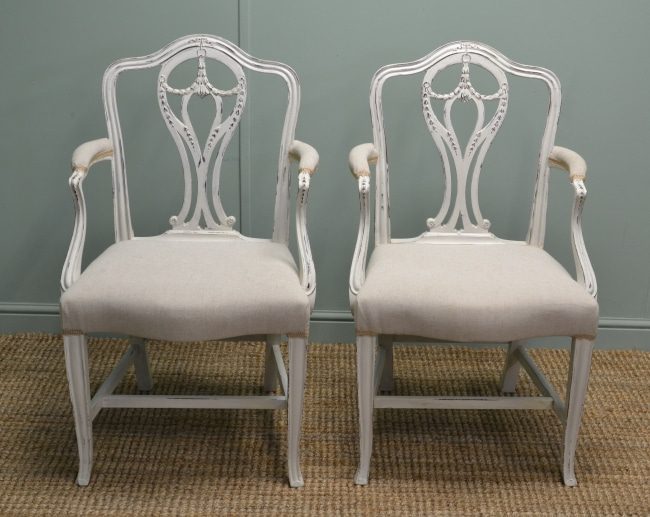 This Sensational Pair Chippendale Design Carver Side Chairs have a pierced back splat and lovely shaped arms. Standing on splayed back legs and cabriole front legs with ball and claw feet, this stunning pair have a rope twist carved edge along with the original faux leather drop in seats.