Victorian Furniture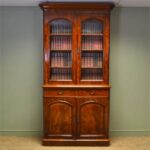 Driscolls Antiques offer an amazing selection of genuine, traditional antique Victorian furniture for sale, in quality timbers like superb Mahogany, figured burr Walnut and nicely grained Oak, all beautifully restored using traditional methods by our in house furniture restorers. Cheap UK and Worldwide delivery available.
Showing 1–12 of 110 results
Antique Victorian Furniture is a style of furniture named after England's Queen Victoria, who reigned from 1837 – 1901.
As Britain increased with wealth the numbers of middle class homes rose, causing an enormous increase in furniture production. Machines were being used more regular on carved decoration but there was still no mass production until the late Victorian times.
The simple Grecian lines were now out of fashion and Georgian furniture was often given to the poor or stored away into attics. The new fashion was more imposing furniture with plenty of curves, rounded corners, glossy finishes, elaborate decoration and later in the century, ornate heavily carved pieces. Motifs and elements from different periods were often used together. Mahogany and rosewood were the most popular woods but oak was still very much in the picture as it was readily available, Iron also made its appearance in the early Victorian age particularly in Victorian bedroom furniture. Victorian furniture was still mainly constructed by hand with dovetail joints, pin hinges, turned bun feet and turned handles.
The trend of furniture became more feminine and delicate; comfort was a big factor in design with easy chairs, sofas and more dining chairs with padded seats. In the late 1880s reproduction furniture was in very high demand, as Chippendale, Tudor and Sheraton styles were copied. Tudor style was usually very dark with an age simulated finish. Chippendale and Sheraton style furniture was usually built to high quality standards and copied by well known makers like Gillows of Lancaster.
Early Victorian furniture still had elements of Regency and William IV with curved backs and some scrolled or reeded decoration. Loo and Card tables were very popular for entertaining and military furniture was very popular due to the fact that people travelled more.
Mid Victorian furniture was more curved, shiny and upholstery was a main factor in design. Turned knobs, scrolled backs and usually plain mouldings with a small amount of carved decoration was used.
In the late Victorian era, furniture was chunkier, lots of carved decoration and new styles appeared like Arts and Crafts and Art Nouveau.
Gothic and medieval carvings were popular along with dark oak and large imposing mahogany pieces. Mirror back chiffoniers and sideboards with carved pediments and lots of storage below or heavily carved gothic sideboards were always popular. Seating was still based on comfort like button back chesterfields and easy chairs. Tables were usually wind out with turned legs and simple designed furniture like chest of drawers would usually have an elaborate carved corbel to finish it off.
Victorian Arts and Crafts furniture became popular in England in the mid to late Victorian times and was handmade in a simple country or farmhouse style. It was solidly built, well constructed and had few decorative effects. The wood was usually unvarnished and pieces were constructed with solid wood and no veneer, the whole appearance was one of simple and practical. The renowned cabinet makers Morris and co. also produced simple designed cabinets and sideboards on which Morris painted scenes of medieval fantasy. The designers of the Arts and Crafts style wanted to show the superiority of handmade furniture and they made pieces that were affordable for most classes and still very fashionable.
In the late Victorian times, England witnessed the rise of the art nouveau movement in design. English Art Nouveau furniture was pioneered by the designers Charles Rennie Mackintosh, and Hugh Baillie Scott. Art Nouveau continued to have some influence in the Edwardian furniture period.