If you are new to buying antique furniture, it can be daunting and a worry about make a big mistake on your first purchase, below is a few Hints and Tips when Buying Antique Furniture.
The first thing to mention is with antiques; you want to keep the original finish if possible as this is the years of charm and character that makes the piece authentic. If it has been re polished, make sure it has been done professionally and traditionally as there is nothing worse than a horrible shiny plastic finish that has been sprayed on using a modern spray finish. It is best to see charm, character and a nice smooth finish from the patina caused by age. Still make sure the original finish is in good condition for everyday use, cleaned and waxed to a high standard, like the items that we sell on Antiques World.
Have a good look around the piece; look on the underside, the back and the interior. Make sure it is in clean condition with no signs of woodworm. If there are woodworm holes, ask if they have been treated and tap the area to see if any dust comes out of them. Check for repairs, loose joints as additional restoration can be expensive.
With chests check all the drawers open and close easily and are not sticking as if they are sticking this may be a problem with the drawer runners being worn and need replacing again adding to more expense.

Check if the brass work and handles are original or replacements. If they have been replaced, are they a good match to what would have been on originally?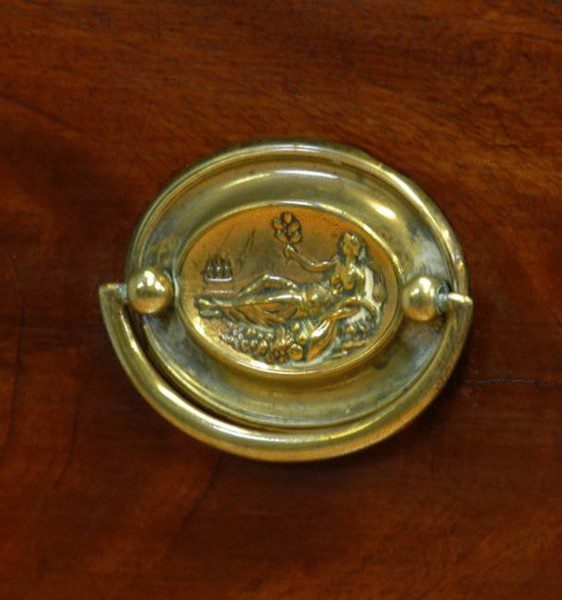 One of the most important things to check is if it is original or a marriage, as if it is a marriage (two pieces married together. Like a bookcase top added onto a chest of drawers) this can affect the value dramatically. Look at the side of the pieces, are they the same grain? Look at differences in the colour of the timber, although sunlight can also change this. Look for screw holes under tops that look like they are doing nothing as this a big telltale sign. Look at the proportion of a piece, does something look a little odd, like a small cupboard on a large base, then this is also a good indication of a marriage.
Buy Antique Furniture from trusted Antique Dealers
I would only recommend buying from a trusted antiques dealer like ourselves at Driscolls Antiques Ltd. Unlike most other dealers and auctioneers, we offer a 28 day money back guarantee on online purchases. We carefully restore using traditional methods to the highest of standards. We price our items reasonably with no hidden costs (unlike auctioneer, who will usually add an additional 25 – 30% commission on your purchase) we are members of Lapada and Cinoa and have been established for over 30 years. All our antique furniture is clearly displayed on our website with price and description and you can also visit our large showroom in Clitheroe, Lancashire.
So have a browse at the lovely antiques we have on offer and please ask if you need any help or advice with your purchase, as we are always here to help.