William IV Furniture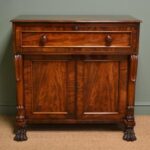 Here at Driscolls Antiques we stock exquisite antique William IV furniture for sale, in spectacular woods, from beautifully figured Mahogany, unusually grained Rosewood and quality Oak, all beautifully cleaned and restored using traditional methods of restoration by our skilled restorers.
Showing all 10 results
Antique William IV furniture is from the era of when King William was on the throne in England from 1830 to 1837 and although it was a short period some very nice pieces of antique furniture were made from fine timber with unusual features. The Decorative features were similar to regency furniture but with slightly more decoration, carvings like claw animal feet and beautiful figured woods were used. It is a very nice period to collect as quality was a big factor in the construction and so pieces were built to last.