The antique cheval mirror is a free standing mirror that can be full length in height, ideal to see your entire outfit when getting dressed. Here on antiques world we have some beautiful antique mirrors for sale and if you visit our mirror section on the side of our website for our latest acquisitions.
The free standing mirror was not invented until  the late 1600s in the form of a smaller tilting design. They were first small and made to sit on top of a side table or chest of drawers but by the early 18th century due to better craftsmen and designs, they became sturdier in construction with plinth bases and small drawers.  The cheval mirror was a larger design inspired by these smaller toilet mirrors, first produced in Paris by the 19th century, due to larger plates of glass now being cast, leading to larger mirrors.  'Cheval' means horse in French, and the name given to the mirror refers to its four supporting legs. For further Details on the history and styles of mirrors visit here.
To see our current selection of mirrors for sale please visit here or below is a selection of sold stock and if you are particularly looking for something similar to below please email or call us as we can add you onto our wanted list and try to find something similar.

Dating from around 1870 this huge empire, figured walnut, French antique cheval mirror is a rare find indeed with its very grand proportions. It has a triangular moulded cornice above a beautifully figured frieze and magnificent turned upright supports. The antique mirror is supported by a chunky turned cross stretcher and four splayed legs with lion paw feet and castors. It is a statement piece and would prove to be a focal point in any room, the perfect shop window display feature or the ideal bridal shop mirror!
This item is now sold, please click here to see our current stock.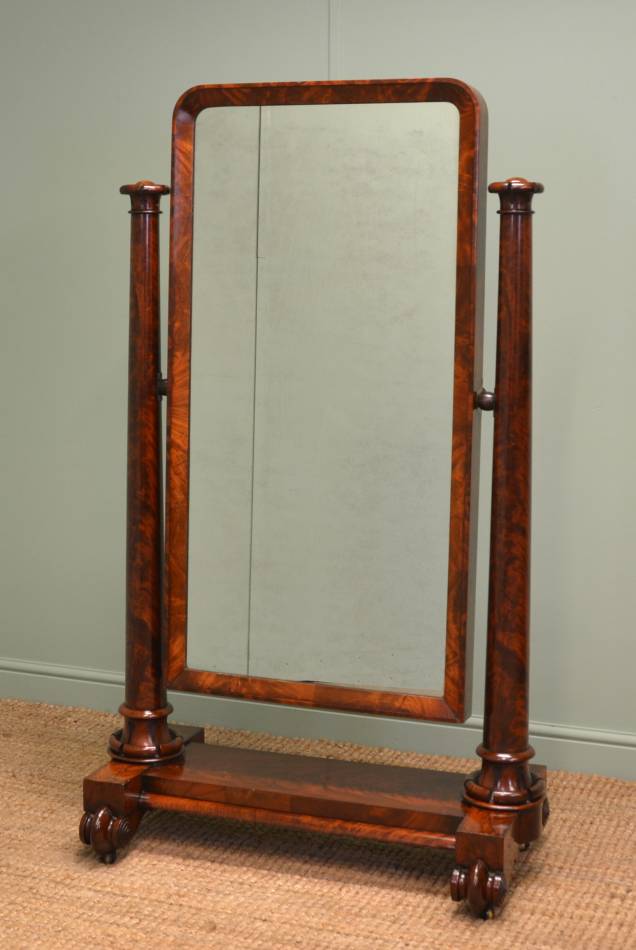 Dating from around 1835 this William IV antique cheval mirror is superbly constructed from quality flamed mahogany. It has a central tilting mirror with a beautiful bevelled flamed mahogany frame having the original back boards along with the original glass mirror with character foxing. The mirror is supported by beautifully figured columns which have delightfully carved scrolled decorations both at the top and base. The flamed mahogany base has a moulded lower edge and four scrolled feet with castors.
This item is now sold, please click here to see our current stock.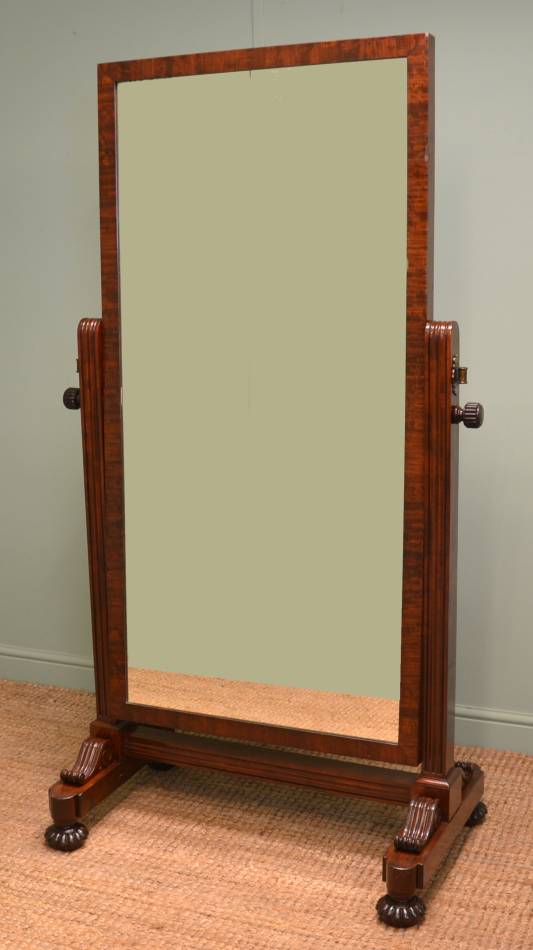 Quality Antique Mahogany Gillows Style Regency Cheval Mirror.
Dating from around 1830 this beautiful mahogany cheval mirror is a quality example of a Regency piece in the style of Gillows. It is a full length tilting mirror with a beautifully figured frame flanked by unusual moulded upright supports with turned reeded pivot handles. The uprights also still display the original brass supports designed to carry candle holders. The base has elegantly scrolled carved horizontal corbels and sits on decorative Gillows style turned feet with brass castors. The original mahogany back boards are still in place. This truly is a superb quality piece that has aged to a fabulous rich medium shade of mahogany with a striking grain, good patina
This item is now sold, please click here to see our current stock.
Dating from around 1900 in the Victorian period this magnificent antique mahogany full length cheval mirror is in the Sheraton design. It is constructed from inlaid mahogany having a decorative rope twist inlaid banding around the edge.  The large tilting shield shaped mirror has a bevelled edge and is supported by shaped brackets topped with beautifully turned finials. It stands on splayed legs with brass castors and also has a lovely carved rose motif at the hip.
This item is now sold, please click here to see our current stock.
This beautiful Victorian, circa 1850, antique cheval mirror is constructed from the finest quality mahogany timbers. It has an arched shaped tilting frame with the original mirror displaying genuine foxing from age. The upright supports are delightfully scrolled and have quality hand carved acanthus leaf detailing. The mirror stands on a beautifully shaped base with moulded edge and sits on scrolled feet finished with small brass castors. The fine carved detailing on this piece is exquisite and can only ever be achieved by a true craftsman.
This item is now sold, please click here to see our current stock.
This Elegant Edwardian Inlaid Mahogany Tilting Cheval Mirror circa, 1900 has a wonderful oval moulded impressive cheval with the original bevelled mirror.  It has tapering upright supports with brass finials and decorative brass screw knobs which allow the mirror to tilt and to be held in place.  The edges are beautifully trimmed with an ebony and boxwood string inlay, and stands on four out swept legs with castors.
This item is now sold, please click here to see our current stock.