Antique Linen Press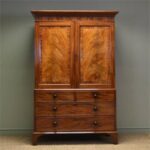 Here at Driscolls Antiques we offer a fine selection of antique linen press for sale from the early Georgian, fine figured Regency, spectacular Victorian and splendid Edwardian periods in woods such as Mahogany, Walnut and Oak, all beautifully restored using traditional techniques.
Showing 1–12 of 18 results
The earliest form of Linen cupboards was from the Georgian era, full of lovely linen slides and constructed from the finest quality mahogany timbers. The renowned designer Chippendale made furniture with fine features such as Ogee bracket feet and mirrored figured panelled doors. The English Regency designs are similar but unusual timbers were often used like rosewood with decorative brass embellishment.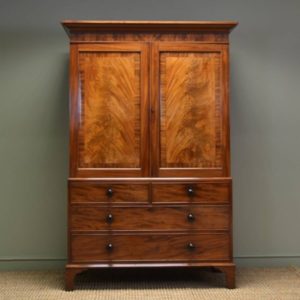 The Victorian linen press was built in the 19th century often with more rounded corners, pilasters, turned handles, bun feet and highly French polished to that mirrored shine. The main timbers used were mahogany and striking burr walnut with fine inlay details such as sunburst or cross banding. More country examples were in pine, often with the original paint finish or English Oak. The Edwardian period introduced more elaborate designs with scrolled pediments and carved motifs but offered hanging versions, so making the ideal wardrobe with drawer storage below.