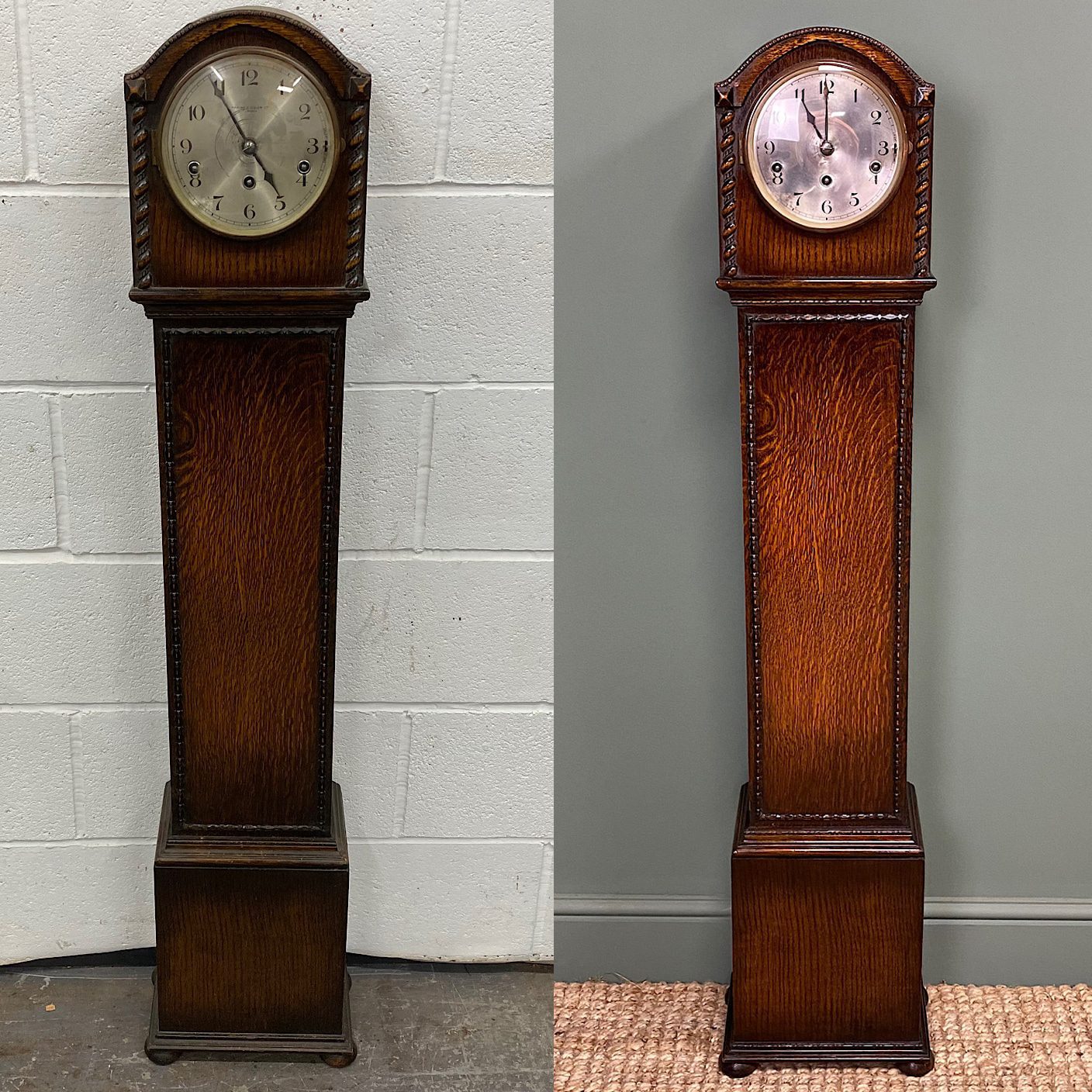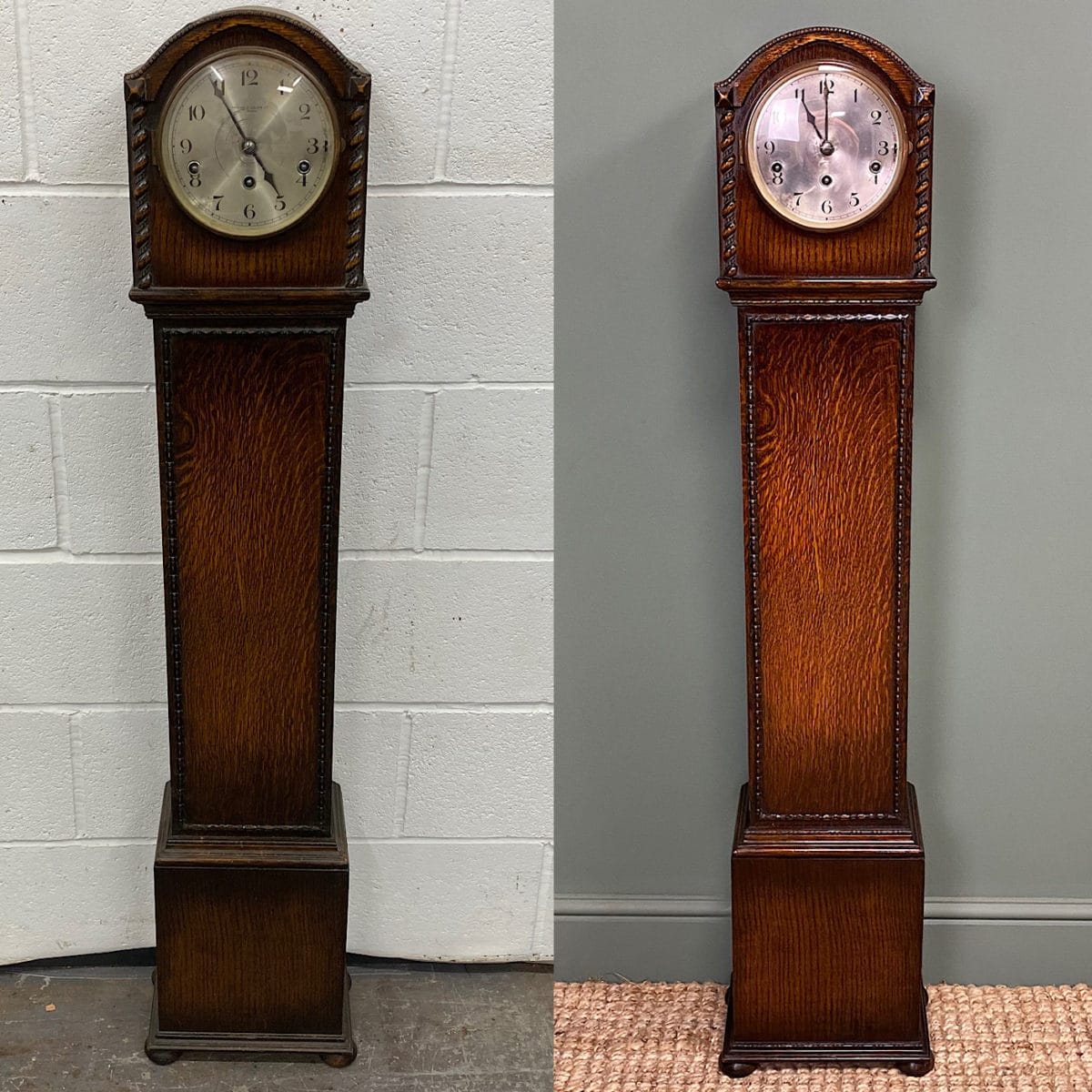 Antique clocks are usually passed down to from generations to generations and the clock case becomes tired or damaged over time. There are some easy tips to quickly restore and revive your antique clock back to its former glory so you can keep it in super condition. This will not only keep the value in your clock but will make that future gift to your love ones so much nicer when they inherit a beautiful antique in stunning condition.
This article covers two sections –
How to clean the clock case
How to clean a clock mechanism
Firstly look over your entire clock case and you will most likely see small dents, scratches or even a few small areas of veneer chips. Don't worry; this is easily fixed using a hard wax stick. They come with a plastic applicator that helps you to press the wax into the area and remove any excess. You then simply buff off the wax until smooth. This comes in different colours depending on the timber of your clock. Use Medium shades for light walnuts, pine and dark shades for Mahogany and Oak. It is important you do this before any cleaning or waxing as it is very difficult to use on shiny clean surfaces.
There is an amazing cleaner by Priory Polishes that has been used by antique restorers for many years. They have specially formulated a Clock Case Restorer that cleans and revives the original finish without damaging the surface patina. It is a very mild cleaner that will not just remove the dirt but will also not damage the wood or veneer on your antique clock. The results you get from this product is amazing, it enhances the original finish and patina with little effort.
You simply apply the clock case restorer with Fine Cotton Wax Buffing Cloths or if your clock case is very dirty apply using Priory Polishes High Grade Ultra Fine 0000 Steel Wire Wool. Always work in the direction of the grain of the wood. Once applied, simply buff off using your buffing cloth and see how much dirt is removed and what a beautiful finish is left.
Do this over your entire clock and then you are ready for the final stage.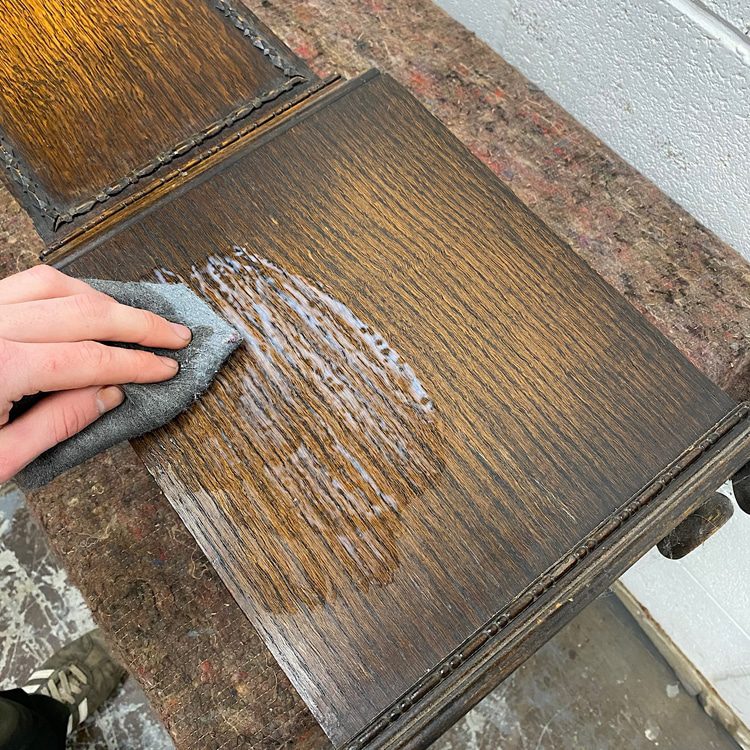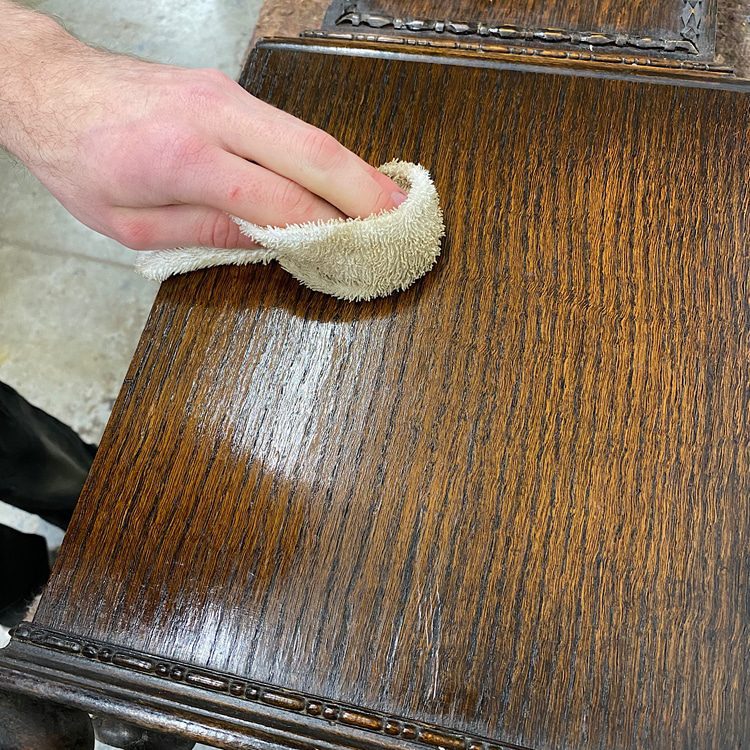 Now you have cleaned your clock, you need to preserve and protect your finish. This is easily done by applying a good quality wax, like Priory Polishes Finishing Wax Polish. This is offered in two colours, either light bees wax or dark bees wax.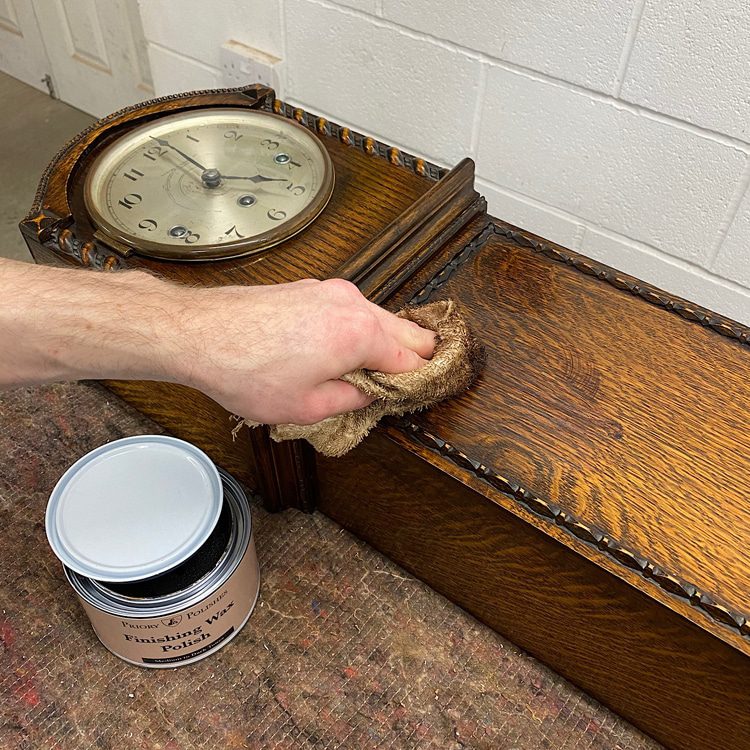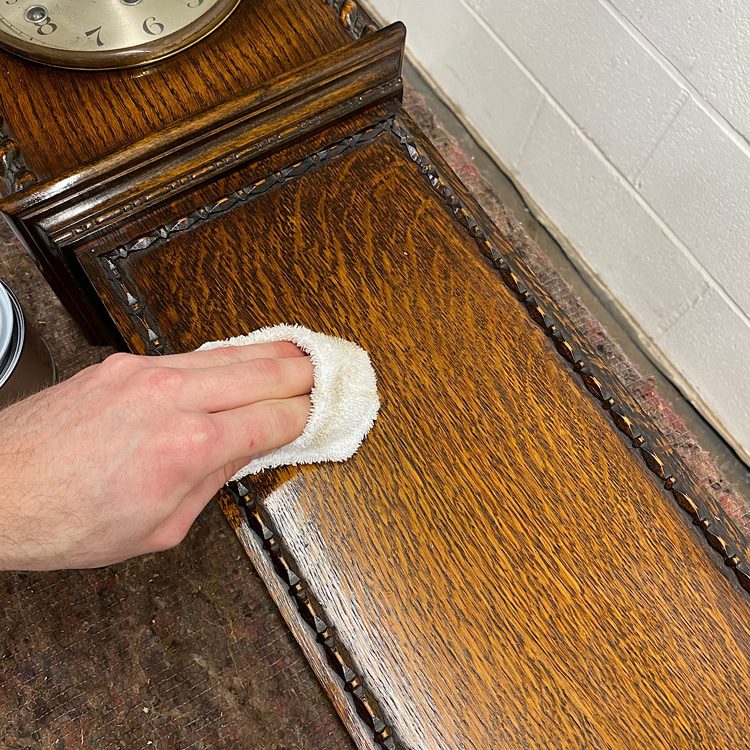 Simply apply the wax using fine cotton Wax buffing cloths, evenly and in small amounts in the direction of the wood grain where possible. Leave for around ten minutes and then buff off to reveal the beautiful finish. More applications will deepen the colour and enhance the finish. For carved areas or hard to reach areas, try our liquid wax.
For best results, Wax your antique clock around once every two to three months but use thin layers as you do not want too much of a build up of wax.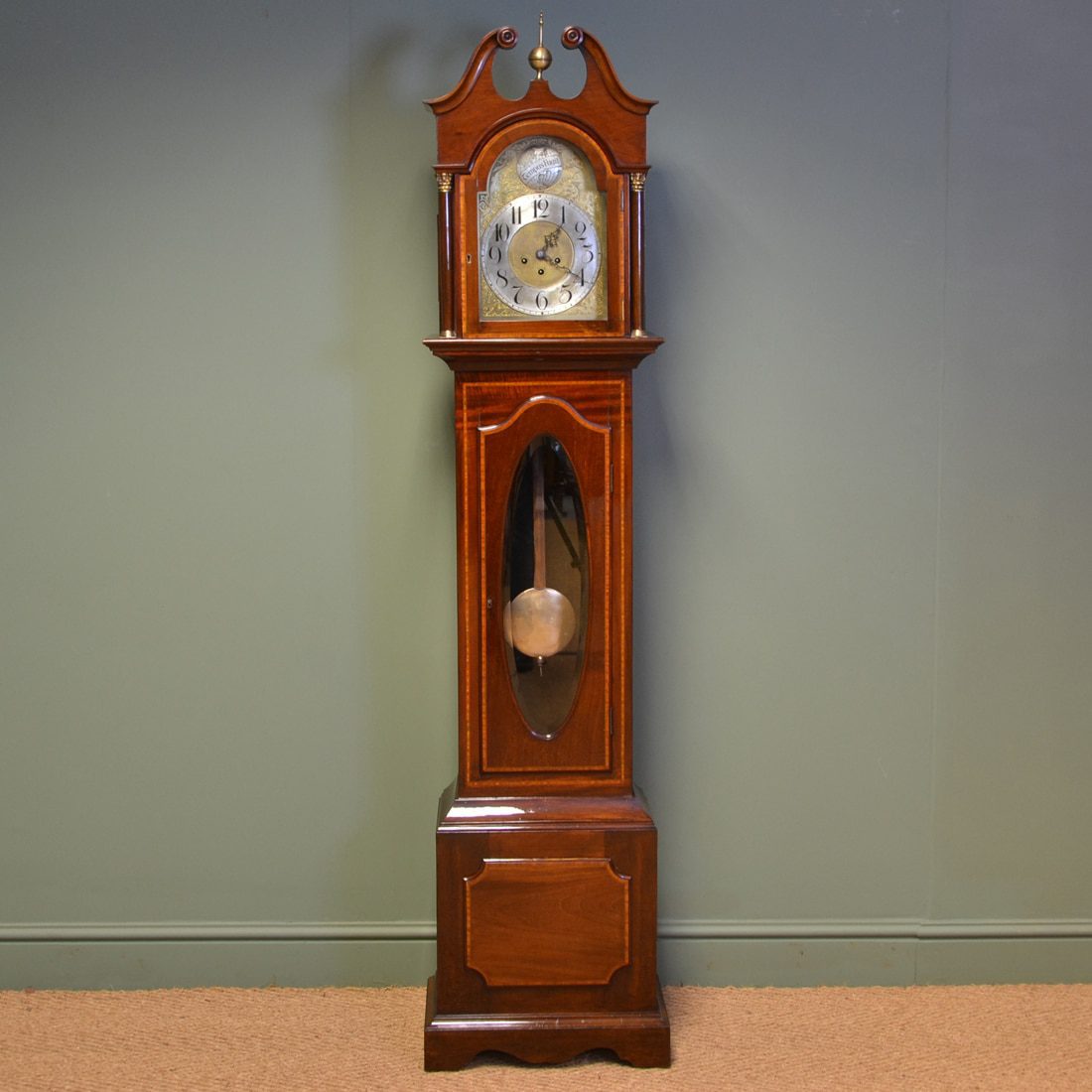 How to Clean a clock Mechanism
We are more focused on the restoration of the finishing of antiques and the cleaning and restoring of the wood. When it comes to the cleaning of the clock mechanism, we do sell some very good clock cleaning fluid. This is an Ammonia based Solution, that cleans antique clock movements along with metals such as Brass and Copper. It removes grease, oil, dirt and tarnish and has been seen used on the BBC program, the Repair Shop. There is a good article on how to clean a clock mechanism by Priory polishes. They have also produced a really good step by step tutorial on their video here.