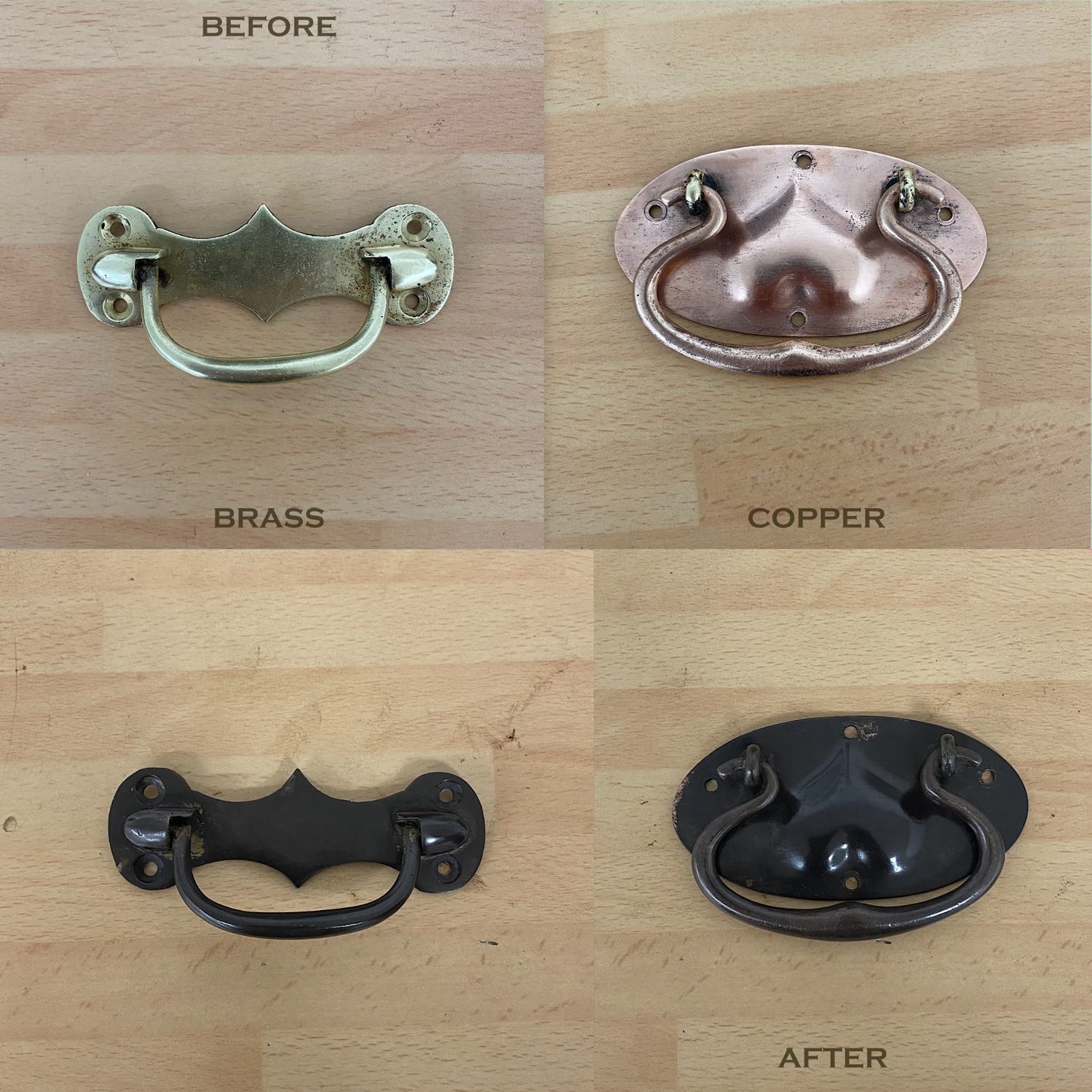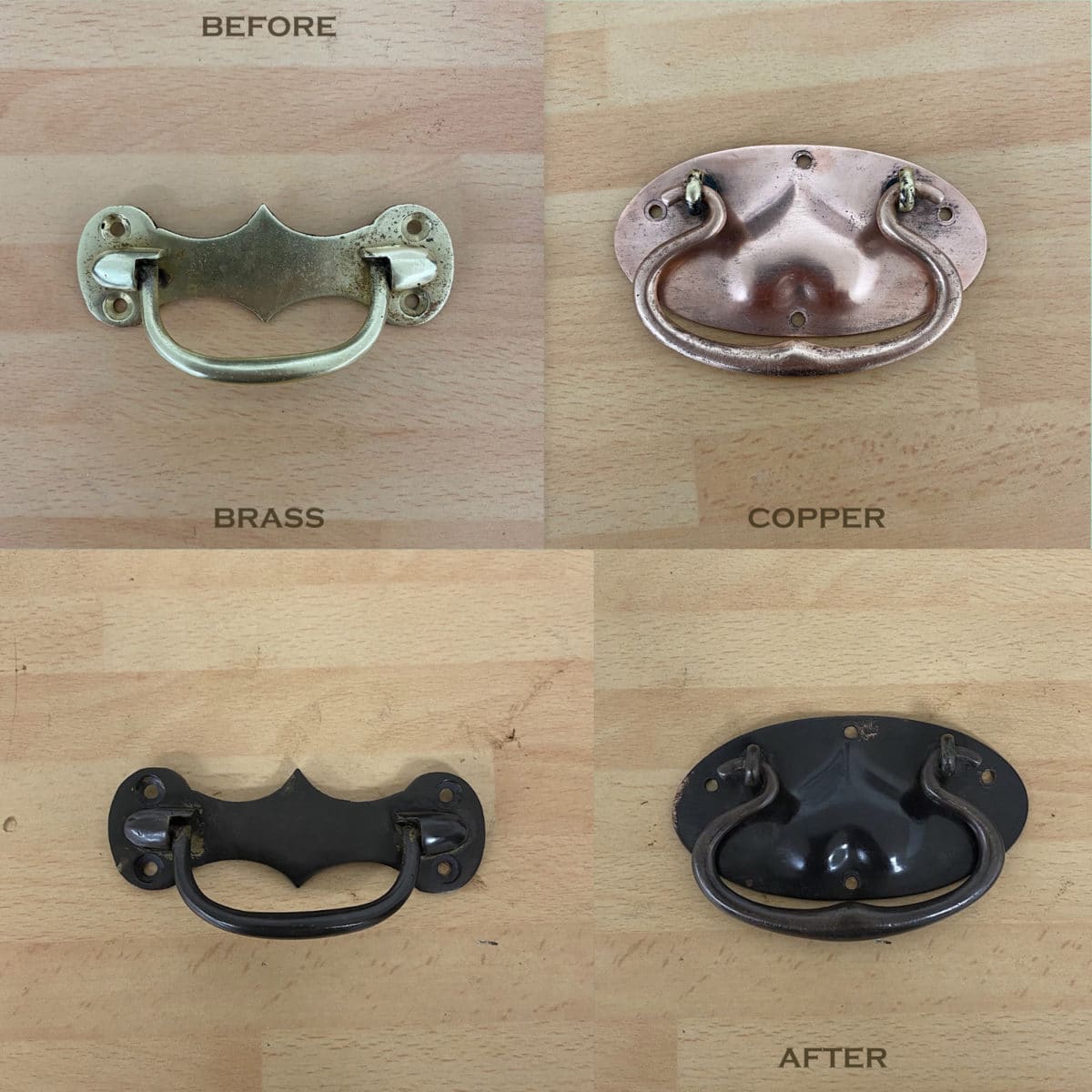 When you buy new metal fittings, they can often look too shiny and garish but there is a very simple way to age and patina Copper or Brass along with other metal such as mild steel. Priory polishes has developed a cold patination, antiquing fluid ideal for this purpose and it is extremely simple to use. It is used for ageing Copper and ageing Brass whilst leaving an antique looking patina, so is perfect when dealing with metals that you want to achieve that 'antique look'.
Guide on how to Age and Patina Copper or Brass
Below is a simple guide on how to Patina Copper or age Brass. This also works well on many other metals including mild steel, Zinc and bronze. See the bottom of the post to what solution would be most suitable with your metal.
1. The first thing you need to check, is to ensure is there is nothing on the metal. Remove any lacquer or finish using paint stripper or abrasive solvents. This is usually done with very fine steel wool to remove any finish. It is very important to remove all the finish so the patina can etch onto the metal. Ensure there is no grease, dirt, oil, including fingerprints on the metal as this can also affect the final finish. To be 100% sure, once the metal is cleaned, dry using a paper towel and be careful not to handle them with your fingers, it is always best to wear gloves.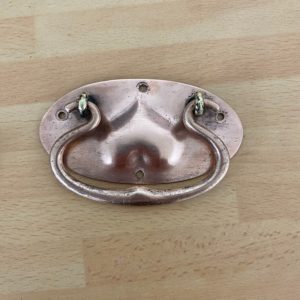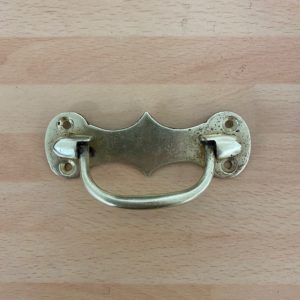 2. Once the Brass or Copper is cleaned and prepared for ageing, you will need to use some Metal Colouring, Antiquing Fluid. If you want a very dark shade you can apply directly onto the metal. For best results, you dilute the fluid with ten parts water or if you want a lighter shade, you can dilute with even more water. Sometimes it is best to start with a diluted solution and add more to darken to your desired results.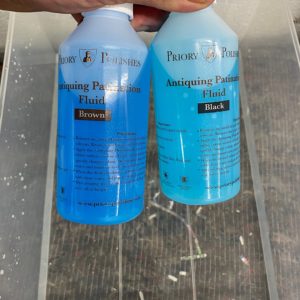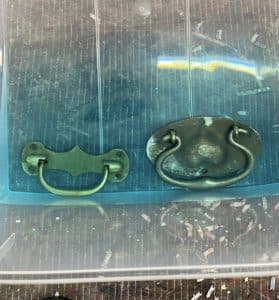 3. Immerse the Brass or Copper fully into the mixed patina fluid and apply some agitation to prevent high spots caused by tiny air bubbles. Always try to treat all the metal items at the same time in the same mixture to ensure you get a consistent colour change.
4. Now you will start to see the Brass or Copper surface quickly change colour. You can leave the metal in the ageing fluid until your desired colour is achieved.
Once you are happy with the colour, rinse immediately with clean water and pat dry with a cotton cloth or paper towel.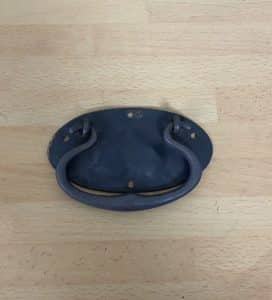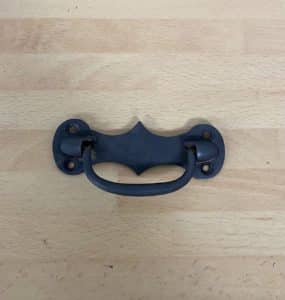 5. You will now see the colour has aged, but it will look quite dry. To protect the metal add a layer of Jade oil as this will not only remove the moister but also leave a thin layer to protect and stop future wear to the finish. This will give you the best long term results. Now to to add a sheen and patina, I would usually use a dark wax finish. Simply apply the wax, wait around five minutes and then buff off to a nice sheen. You can also use Metal oil or Metal Lacquer but the wax will give you more of an aged patina, so ideal for antique restoration.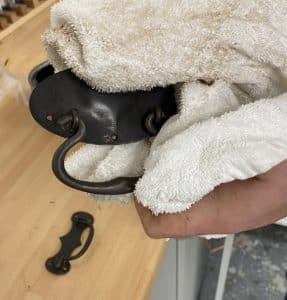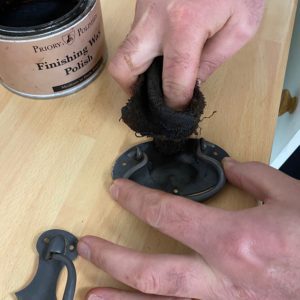 When you buff off the wax, it will produce a smooth, even finish with a mellow sheen. This is ideal for fittings on antique furniture.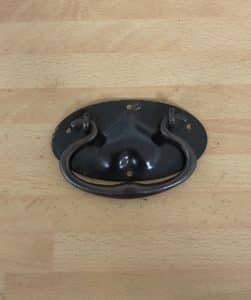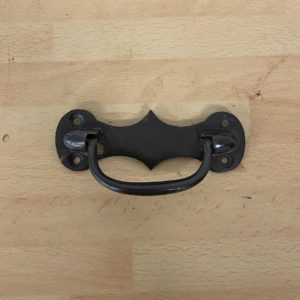 We offer two variations of antiquing fluid.
Black is the strongest colour and will work on Copper, Brass, Bronze and some mild Steel. It also works on Zinc to some degree as it leaves a darker grey colour.
Brown is ideal for Brass, Copper and Bronze.
The fluids are not recommended on Stainless Steel, Aluminium or Chrome as they do not really work on these metals.
As with all restoration materials, it is always recommended to test a small area first.