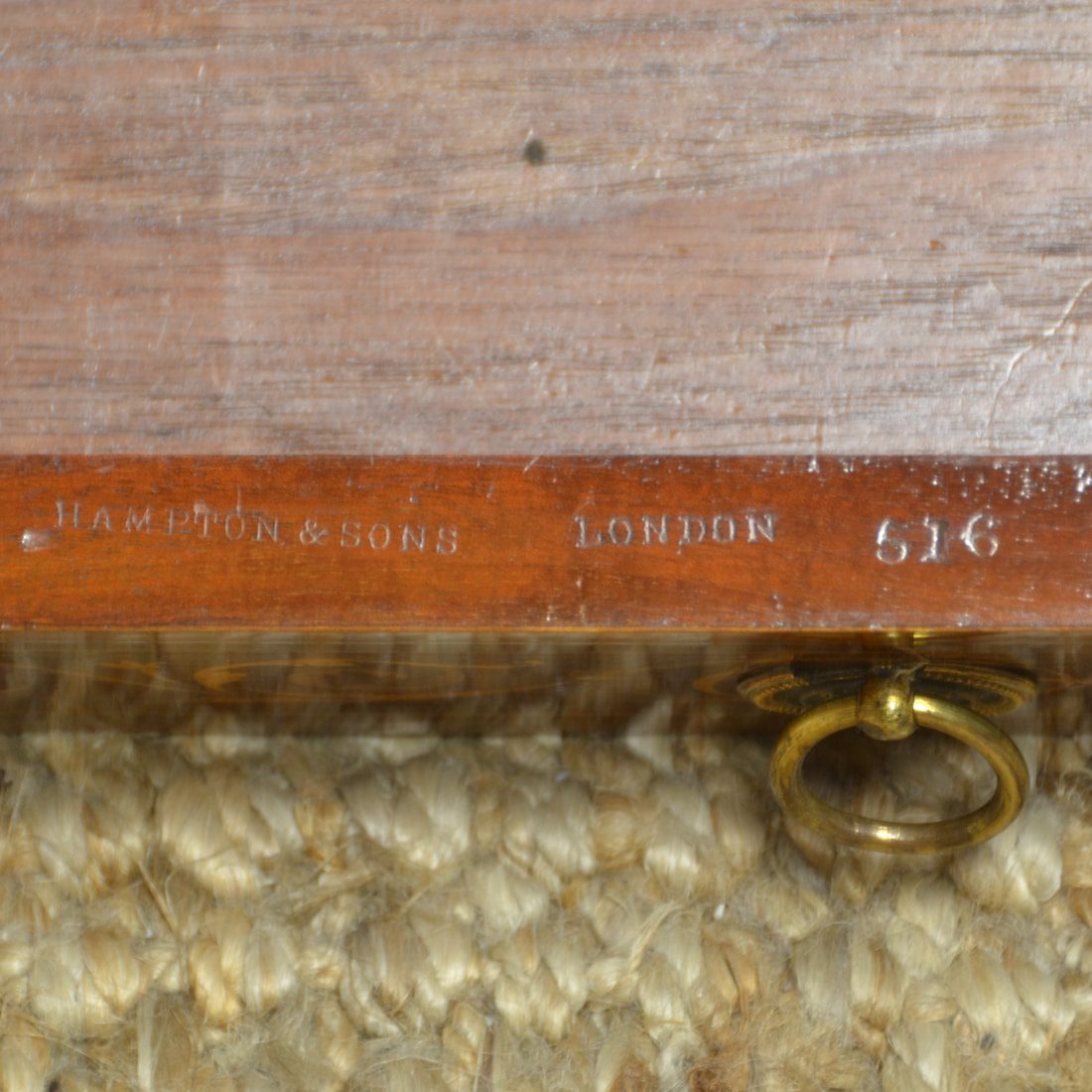 Hampton and Sons were cabinet makers of Antique Furniture and were first established in ca. 1830 by William Hampton. He opened his first shop selling General household to more fine furniture in Cranbourn Street, in London. In 1869 Williams Two sons George and William joined his business and they expended and moved to the larger premises 8 Pall Mall, London.
Hampton and Sons furnished some impressive properties and boats from the Royal Yacht Britannia, the Queen Elizabeth and Queen Mary, the Theatre Royal of Drury Lane, the Duke of York Theatre, the Dorchester and the Mayfair Hotels and the palaces of two Indian princes, the Nizam of Hyderabad & the Maharajah of Kashmir.
Hampton and Sons had a few disasters throughout its history, it suffered a major fire in 1890 but they re-established and went to expand their business further. They bought several cabinet making firms starting with James Coulson and Co of Lisburn, Northern Ireland in 1898, and then Goodall, Lamb and Highway of King Street, Manchester and Robson and Sons Ltd of Newcastle-upon-Tyne (all very prestigious cabinet makers throughout history).
In 1926 Hampton and Sons opened a factory at Ingate Place, Battersea but in 1940 a bomb hit the Pall Mall premises and most of the building was destroyed. Because of this they decided to buy a controlling interest in the firm of Storey & Co Ltd of Kensington High Street where they established their new headquarters. Hampton and Sons did make some real quality pieces of Antique Furniture, so if you purchase a piece with their stamp you know you will have a quality items that will last a lifetime if cared for correctly.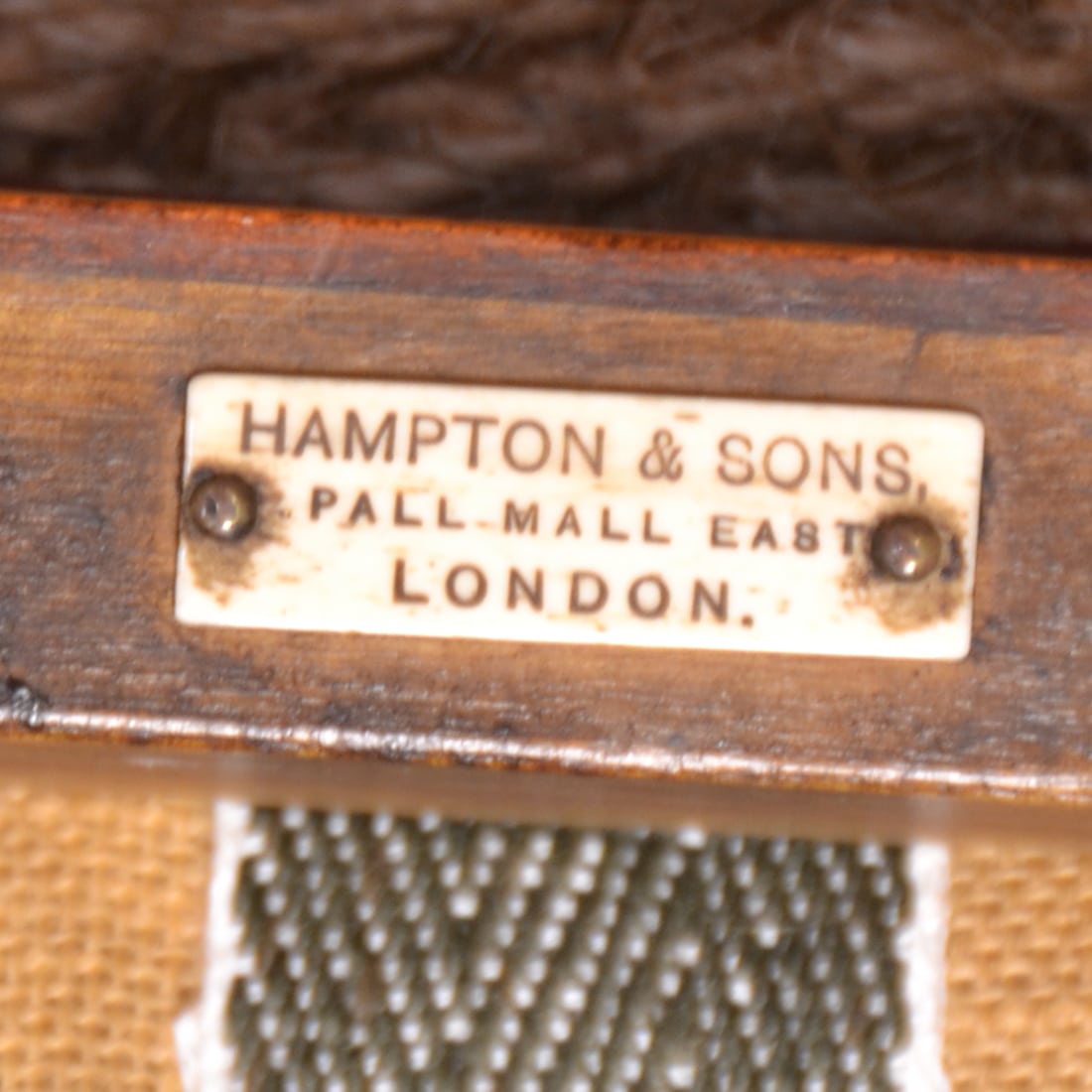 Here are a few examples of their high quality furniture that they made and supplied throughout the 19th Century.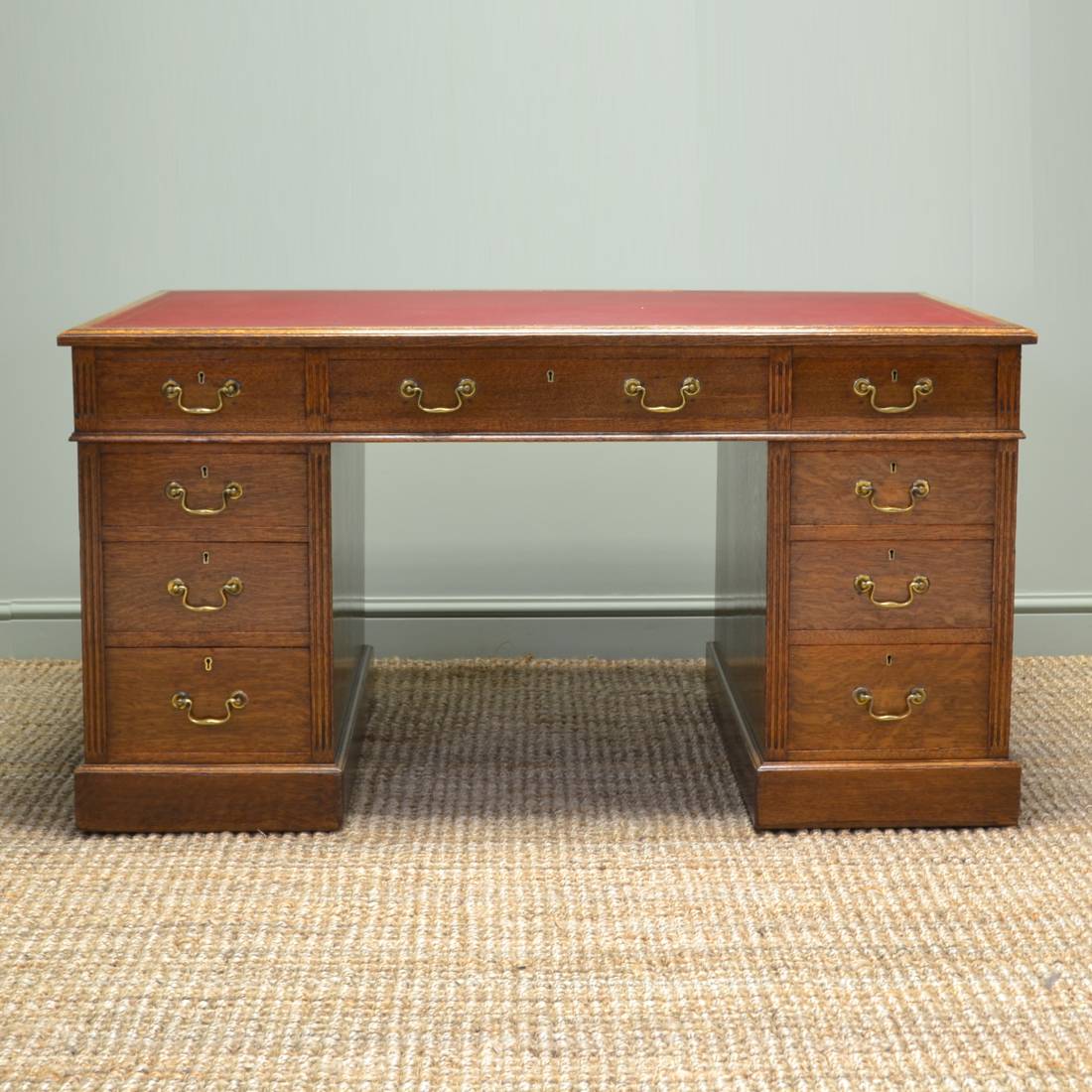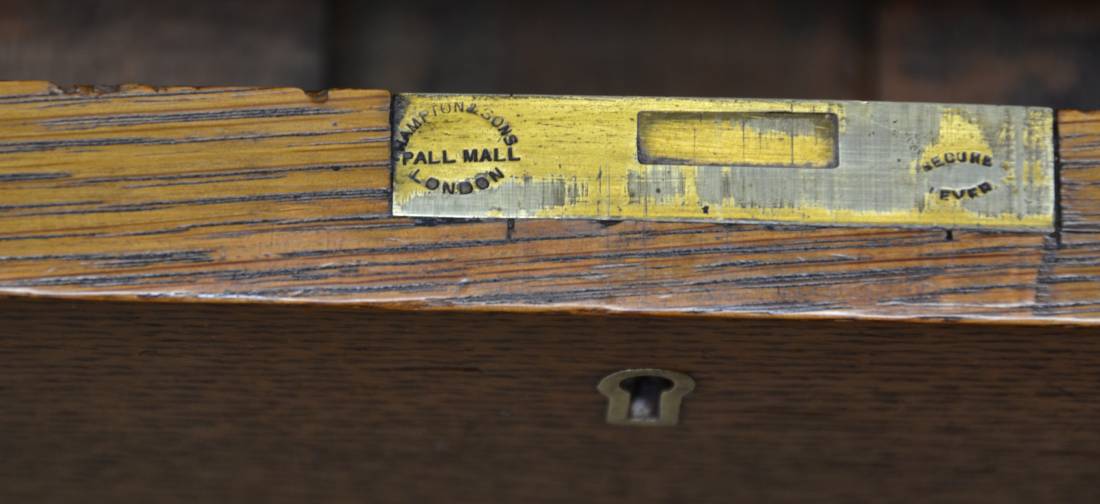 This Superb Quality Victorian Beautifully Figured Oak Pedestal Desk is clearly stamped Hampton and Sons Pall Mall London on the locks and has superb quality brass swan neck handles.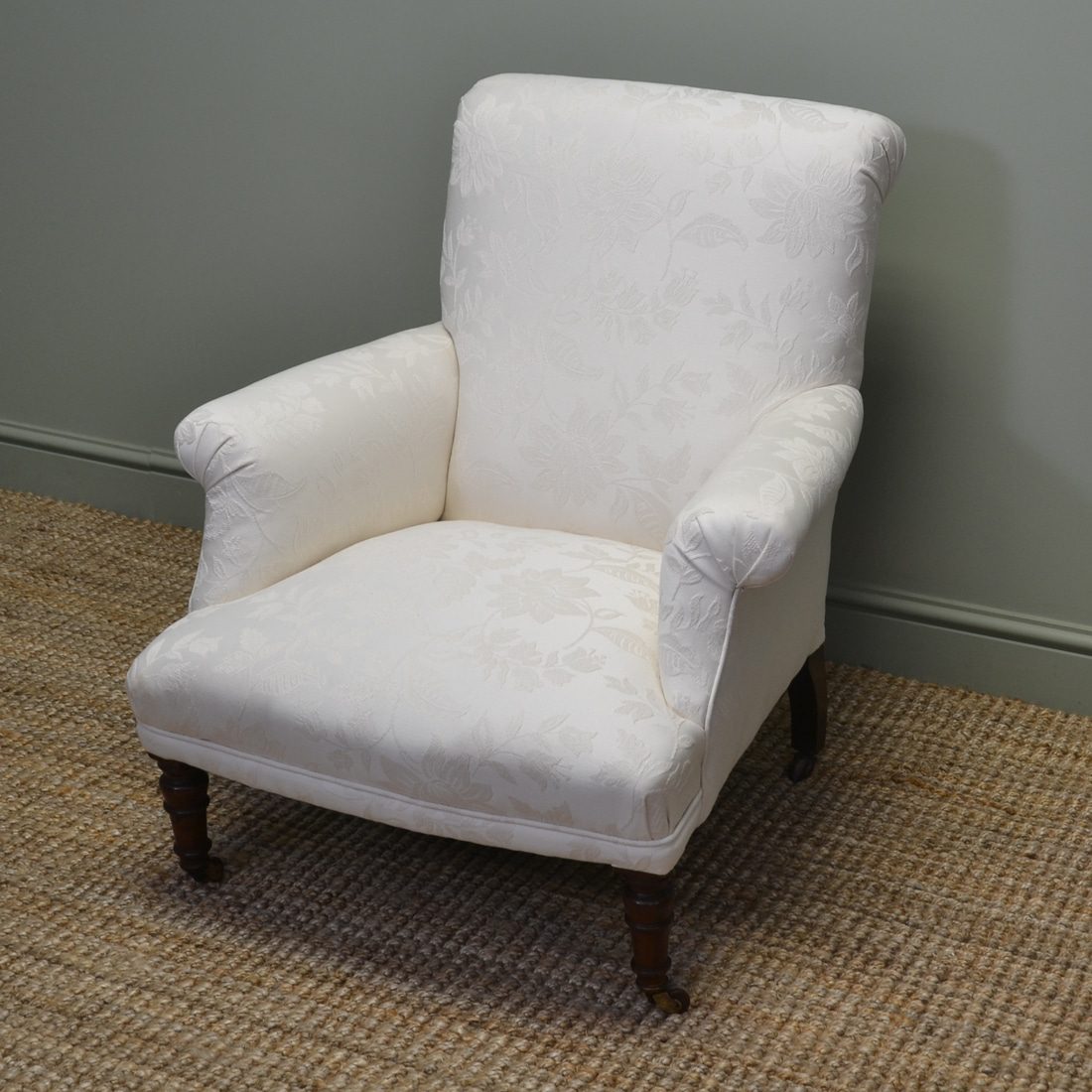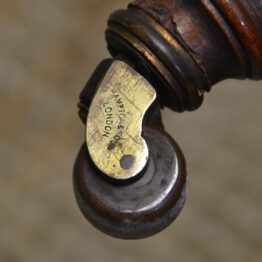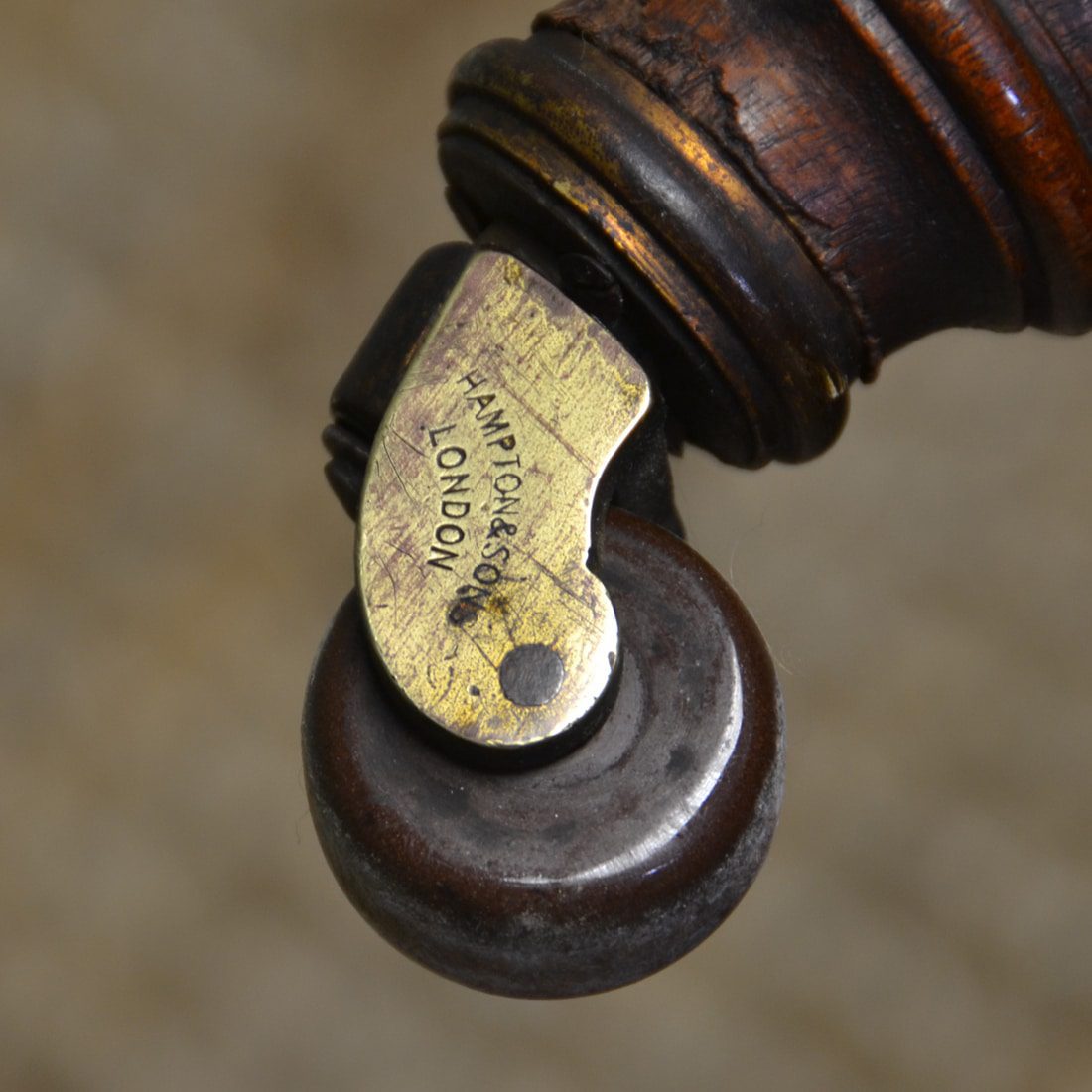 This Fine Quality Newly Upholstered Victorian Antique Armchair is stamped on the brass castors Hampton And Sons, standing on turned front legs and splayed back legs, made from solid Walnut.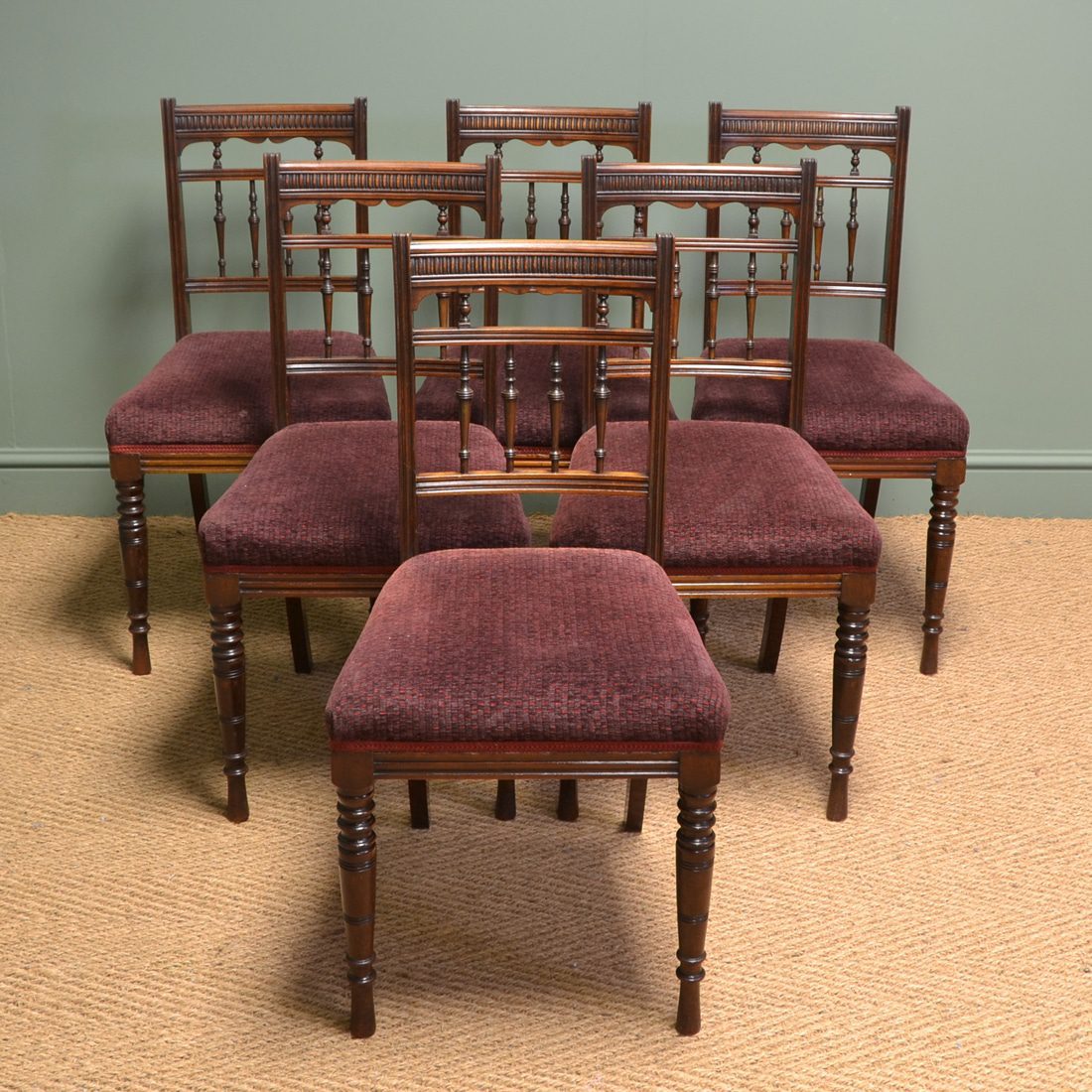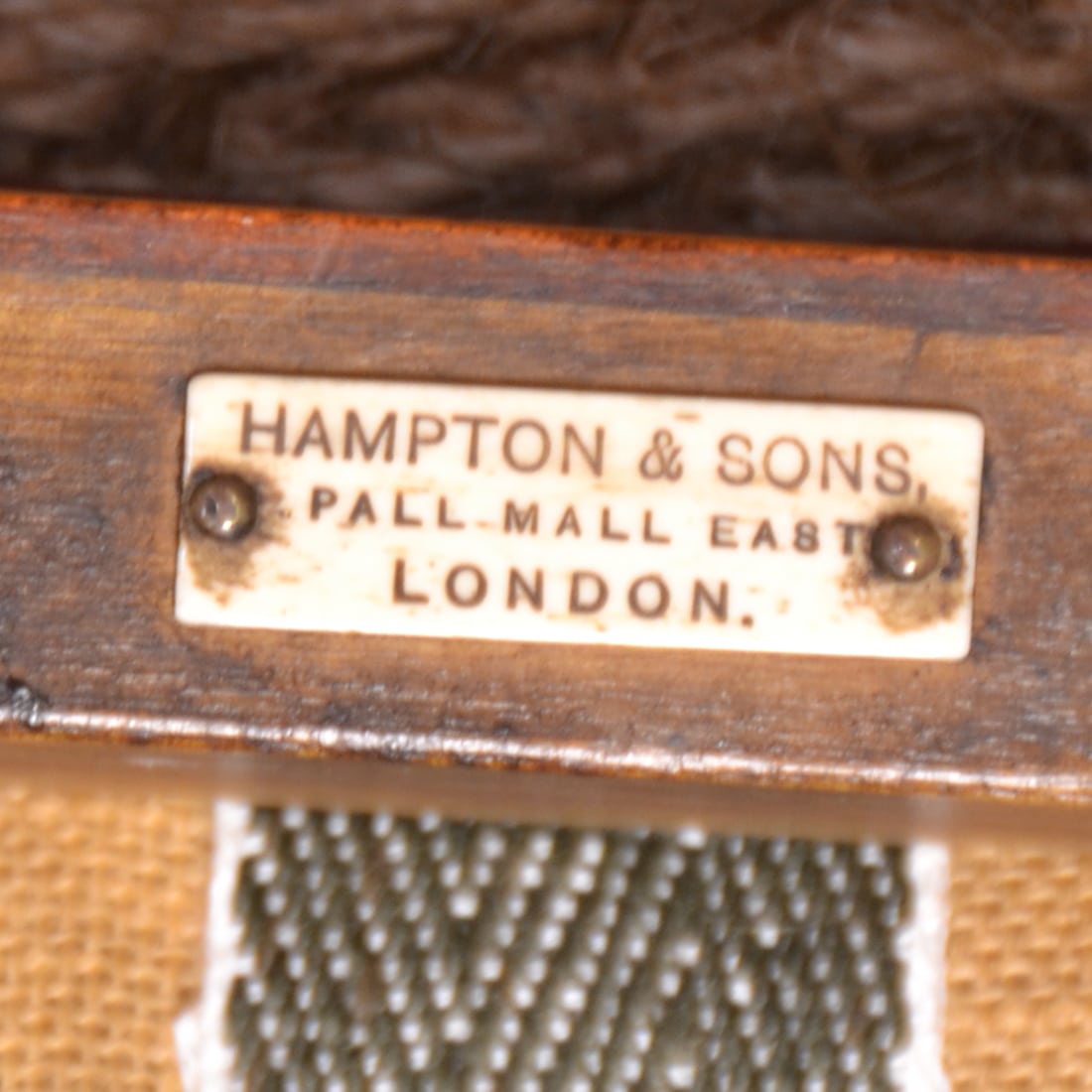 These Quality Set of Six Victorian Walnut Antique Dining Chairs have their original Ivorine Hampton & Sons label on the underside of each chair.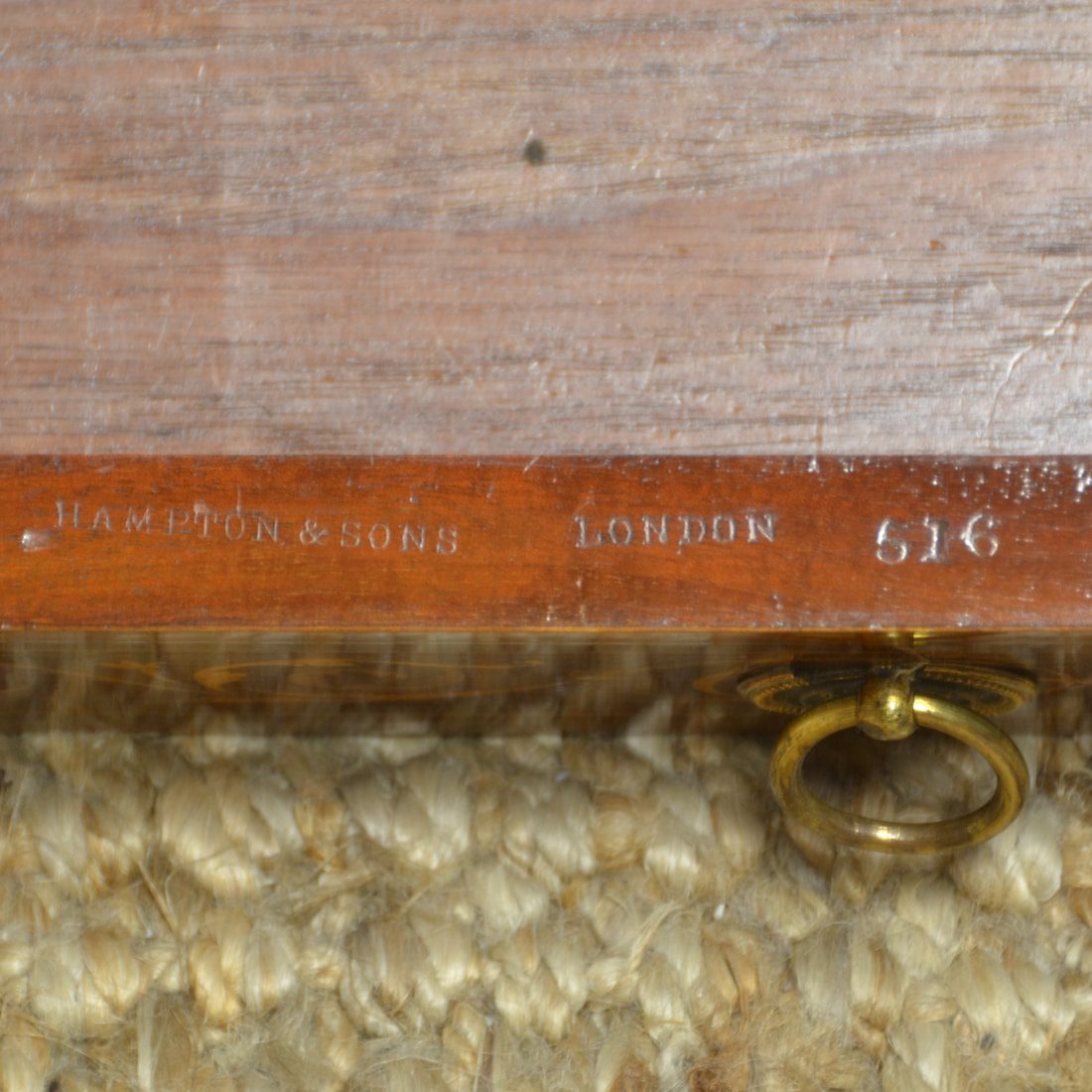 This is a very unusual Antiques Games / Writing Table by Hampton and Sons, dating from ca. 1890 with green tooled leather writing surface, that swivels open to and reveals a green baize playing surface and is also very unusual having a pull out pen tray on the side.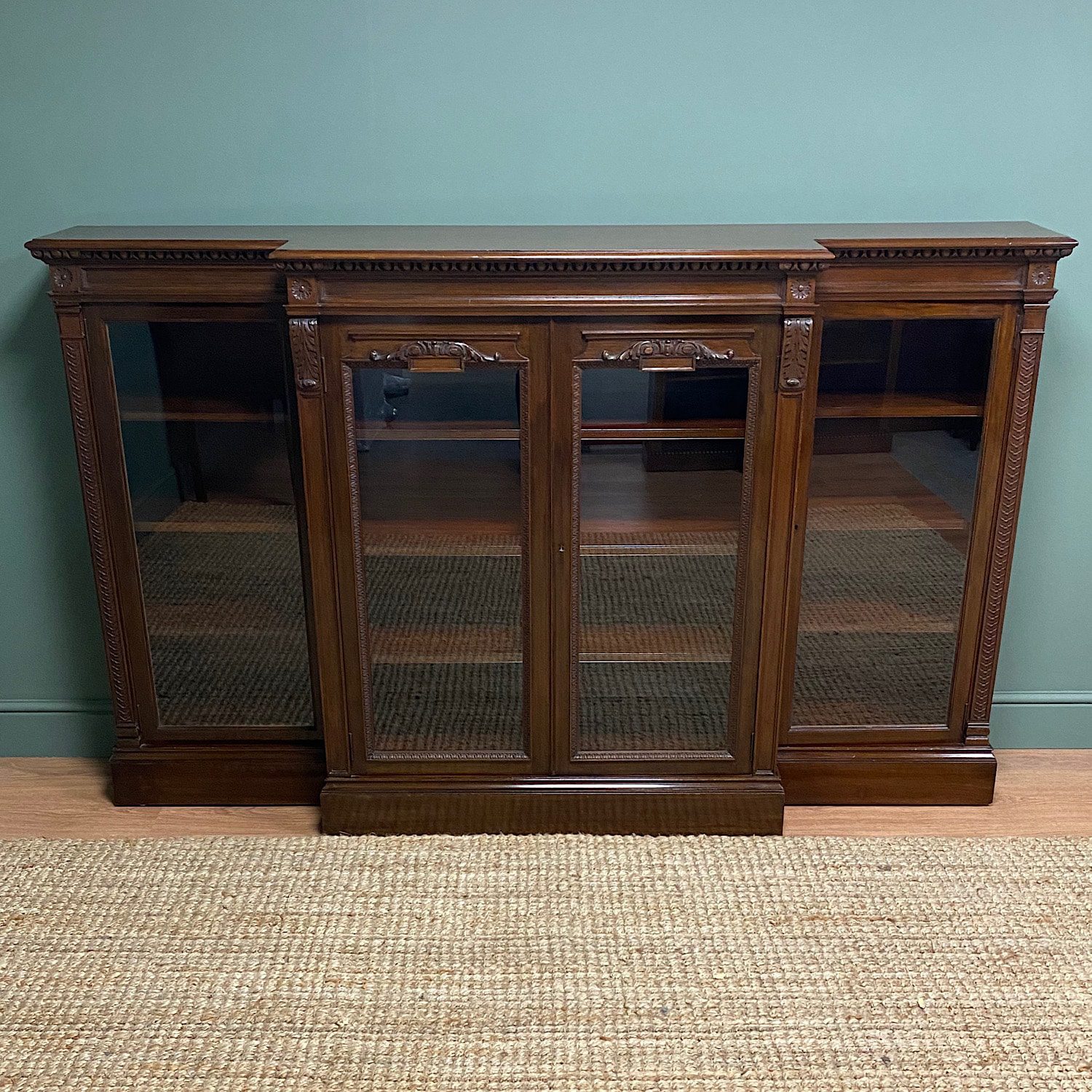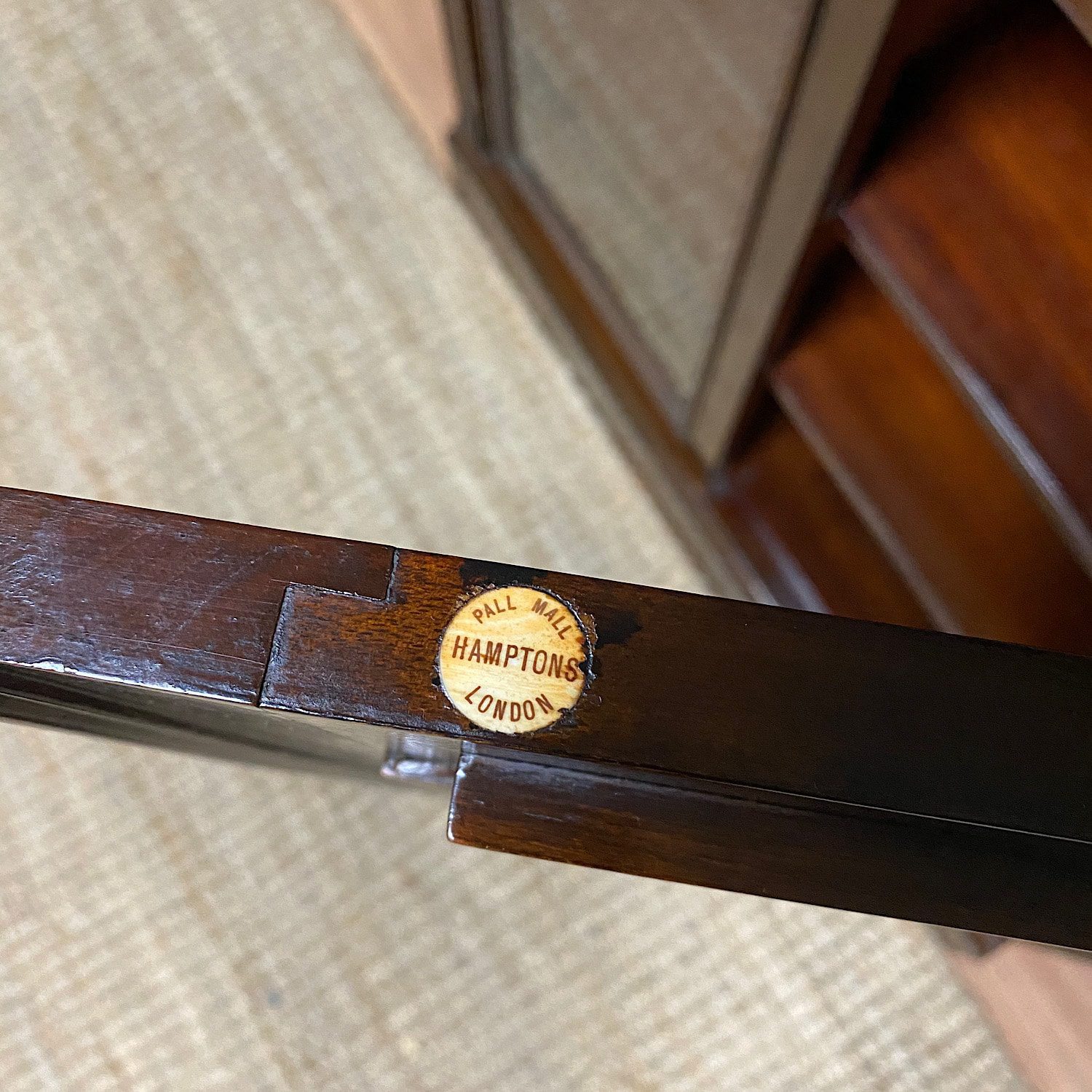 This is a beautiful large 19th century Antique Victorian Walnut Breakfront Bookcase with its original makers stamp 'Hamptons, Pall Mall, London'on an small button in the door. It has four glazed doors with beautiful carvings and carved corbels.