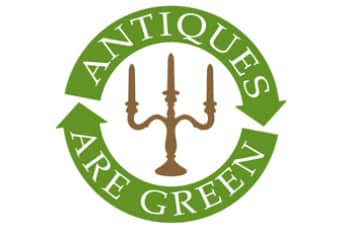 There are many reasons to buy antique furniture but here are a few reasons that you may not have thought of.
Antique furniture is officially environmentally friendly
A report by Carbon Clear has done research and found that antique furniture is environmentally friendly. Carbon Clear is an independent consultancy specialising in carbon management and carbon accounting. Antique furniture is most likely to have a carbon footprint 16 times lower than modern newly manufactured furniture. They compared the greenhouse gas emissions with the manufacture of a modern chest of drawers and the use of an antique chest of drawers.
They have said in their findings, buying antique furniture rather than newly built furniture reduces landfill as antiques are not thrown away, reduces carbon emissions and reduces the consumption of new goods from outside the UK so less freight and this is also better for the UK economy. The antiques trade is the oldest recycling business in the history of the world and also preserves our heritage for future generations. Also antique furniture is sustainable, re-usable and re-saleable.
No trees are being cut down to make antique furniture unlike the modern equivalent and antique furniture was originally mainly constructed by hand in daylight so no power tools or lighting was used.
The lifespan of the antique furniture can last forever if looked after properly, but the study looked at a piece 195 years old and this concluded the average emissions per year of an antique chest of drawers is sixteen times less than a modern chest of drawers. They state the lifespan of the new chest of drawers is only approximately fifteen years and is not normally resalable.

Antique Furniture is Cheap to Buy
It has never been such a good time to buy antique furniture than now. Over the last 20 – 30 years antique prices have been falling but we are seeing prices starting to creep back up again and especially for the high quality pieces, these are rising at a much faster rate. Antique furniture has never been so cheap to buy and I believe it will be a very good investment for the future.
Antique furniture is extremely undervalued, you just cannot buy the quality in a modern piece. The woods used to build antiques are now endangered, which means they are no longer available today. Modern furniture is built using faster grown, less quality woods that do not last. Also with an antique, you can still retain its value, whereas with a modern piece of furniture is worth next to nothing after a couple of years and if cheaply made, it will most probably be falling apart.