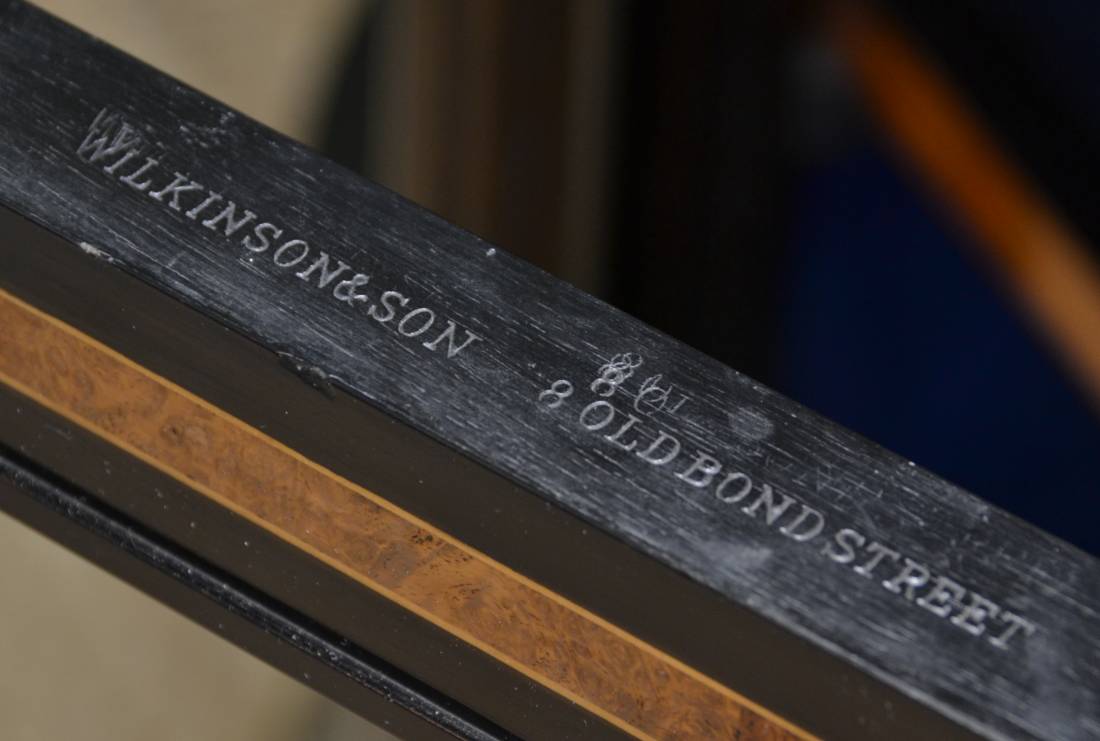 Antique furniture by the cabinet makers Wilkinson & Son is usually a sign of quality. Wilkinson & Son was first established by Joshua Wilkinson as cabinet makers, upholsters, carpet sellers and a looking glass warehouse, in 1766 in 7 Broker's Row, Moorfields in the City of London. Joshua Wilkinson died in 1790 and by this time his son William Wilkinson and cousin, Thomas Wilkinson, were in partnership running the company. They became specialists in extending tables, breakfast tables and Card Tables. The partnership of William and Thomas Wilkinson ended in 1808 when William set up on his own at an old established firm of Quentin Kaye at 14 Ludgate Hill and Thomas continued at 10 Broker's Row until 1828.
William Wilkinson was very successful going forward with his business. Some of his first furniture was stamped `WILKINSON LUDGATE HILL'. In 1825 William brought his three sons William, Ayscough and Charles into the partnership and after this date furniture was stamped `WILKINSON & SONS 14 LUDGATE HILL'. William Wilkinson died in 1833 and after this date his sons changed the furniture mark to W & C WILKINSON 14 LUDGATE HILL. After William's death his widow sold her share to his brother Charles who then moved the business to 8 Bond Street, London in 1855. Most stamped furniture from this period onwards would be stamped Wilkinson & Son 8 Old Bond Street. In 1871 the business was passed to Charles eldest son, Frederick. The building 8 Bond Street, was demolished in 1909 and the company was re-named Hindley & Wilkinson. They moved to 70/71 Welbeck Street, London. They were eventually absorbed by Marshall & Snellgrove in about 1918.
Wilkinson & Son were renowned for quality, fine quality cabinet making and beautiful inlay with gilt decoration. Occasionally we get some beautiful examples for sale by Wilkinson & Son like this Quality Victorian Antique Credenza
Stamped By The Renowned Makers W&C Wilkinson, 14 Ludgate Hill, This Spectacular Figured Mahogany Victorian Antique Chest Of Drawers is mahogany lined drawers with the original turned handles.